IT HAPPENED.
How we convinced 150 ridiculously good looking busy entrepreneurs to fly across the world to an isolated Island for five full days will forever baffle us….but hot damn was it worth it.
Baby Bathwater Island was the culmination of a wild idea, a hell of a lot of hard work, and a bit of luck.
The setting was off the charts. An Island oasis entirely to ourselves.
All-inclusive: food, booze, sunset catamaran rides, live music, perfect weather and all of our coveted first-world comforts well within reach in our swanky, air-conditioned forest lodges.
But that's not what this is about. As Cap'n Michael Lovitch explains…
"I'd rather be with our folks in the g*ddamn LaQuinta Inn, Omaha than be on this Island with anyone else."
Thus was the general theme on Baby Bathwater Island. It's all about the people. Unforgettable shared experiences, strong friendships forged, and absolutely mind blowing insights from the world's finest.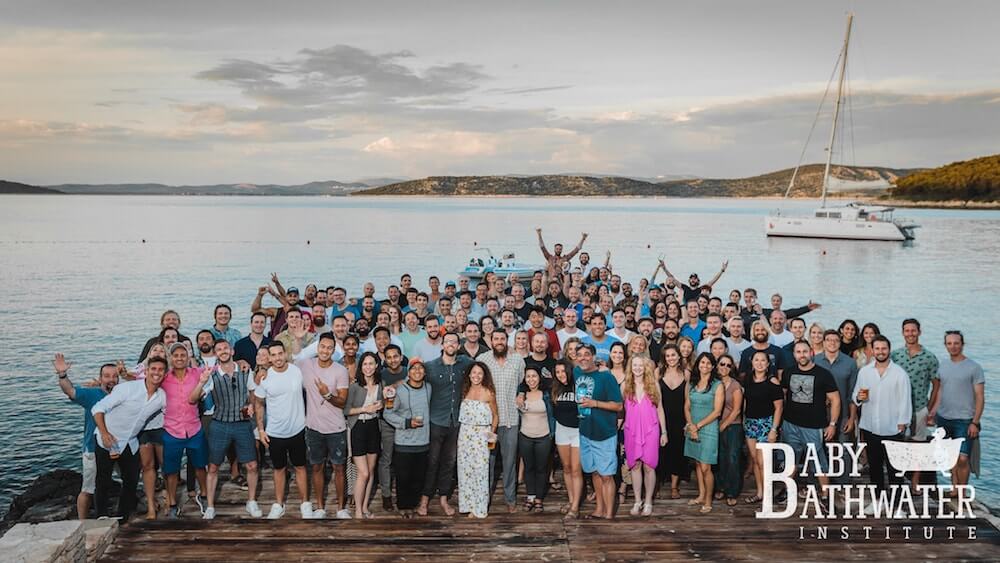 "In terms of content, they're bringing some of the biggest game changers here ever…and they're giving you their best tips and tactics."
– Eric Dahl, Owner, Dahlars Inc.
We learned how to create REALLY persuasive videos that sell from Mr. Ron Lynch, the man that took GoPro from $300K to $600M in sales in a very unique way.
We had our minds blown by Cat Howell over a Facebook Rapid Fire Testing Framework that will help us crack 3-4x ROA, and the specific SOP's in order to implement this with our teams for optimal results.
"It's the creme de la creme.  It's the top people doing the best things."


– David Allred, Co Founder,

Dry Farm Wines
We discovered that YouTube is an actual GOLD MINE.  Tom Breeze taught us how to start slow, get results & then scale like crazy!
We received real, solid advice when it comes to the use of psychedelics from Neuroscientist Jack Allocca.  Both for expanding consciousness and for operating at peak performance.
"Some of the guys here that I talked to changed my business with a 5 minute discussion."
– Steven Kuhn, Owner, Steven-Kuhn.com
We were given the tools to buy media at a wayyyy higher level from Addie Conner who was able to make very complicated things seem accessible and usable.
We learned about messaging, and how a solid strategy provided by Jesse Elder can help grow your tribe organically, without any ad spend.
We were handed the secret sauce to create an online conversion funnel that works (since 90% don't.)  Veena Sidhu and Ewa Wysocka gave us a presentation that delivered concrete solutions!
We learned more than our monkey brains could ever convey…
"They really spend time to make sure they are bringing together people who support each other and lift each other up and give each other REALLY good and specific information."
– Jenny Thompson, Founder, SafetyPIN Technologies
And how could we forget Trevor Chapman, who shared how he was able to create the number one business podcast on iTunes.  Better than that, he showed a humbleness that was greatly appreciated by all.
Very cool from a guy that the MIT Tech Review calls, "The World's Leading Digital Strategist and Global Thought Leader."
We also taught, we ate, we drank, we laughed and we lived well!
This entrepreneurial journey can be riddled with peaks and valleys.  It's invaluable to surround yourself with people that can understand and support you through the big wins and tough losses.

It's absurd to be able to surround yourself with them on a private island.  Baby Bathwater Island was most certainly a collective peak.
"The Marines have an expression: if you were there I don't have to explain it, and if you weren't I can't explain it." – David Allred, Co Founder, Dry Farm Wines
INCOMING LOVE BOMB
A massive THANK YOU to all who made this possible. You had to be equal parts brilliant and insane to make this leap of faith, which made for an incredible group of humans to spend time and exchange ideas with. You are the Baby Bathwater Institute. You are what makes this special.
Good times.
Great new friends.
Unforgettable memories.  
The question remains….where will we go next??