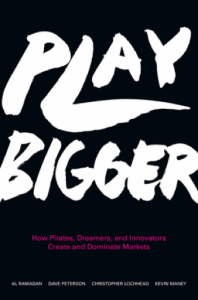 How We Came to Play Bigger
It's the day after last summer's Powder Mountain event, and Michael Lovitch—beaten, exhausted, and horribly hungover from the big weekend—is driving back home to Boulder to hibernate through his recovery.
He grips the steering wheel hard, a long ride on the horizon.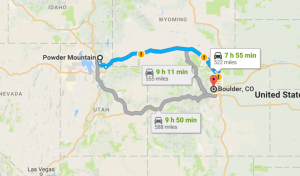 But, our hero is prepared. He's already got Play Bigger downloaded on his phone and hooked up to the speakers.
Tired though he is, as soon as he gets home, Lovitch sends Hollis several feverish emails about all the nuggets of knowledge he gained and how the book presented an entirely new way of thinking.
The Webinar
Since then, the entire team and many Baby Bathwater members have dug into this book as a must-read, and some even consider it their bible. In an effort to help our members "Play Bigger," Hollis got in contact with the folks behind this gem.
One of Play Bigger's authors, Chris Lochhead, kindly agreed to hold a private members-only webinar for Baby Bathwater. He went over tactics outlined in the book, dove into some of our members' businesses, and dropped epic knowledge bombs on category creation and dominating any market.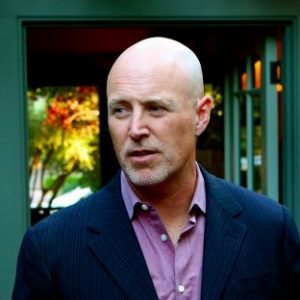 What is Category Design Anyway?
Most businesses fail because they only focus on their company and their product—they don't pay attention to the market category.
For those of you who don't know, category design is about not just joining a market space, but creating a totally new one that you dominate.
"When you study legendary entrepreneurs over time, you see this interesting intuitive pattern that they have around understanding how to create a place for themselves in the world that only they can occupy." -Chris Lochhead
And in that way, these legendary entrepreneurs design three things: a product, a company, and the market category itself.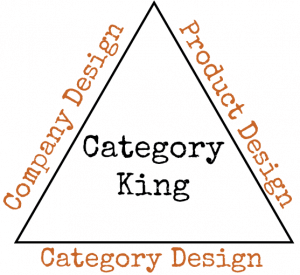 Because if you DESIGN your category, you're more likely to DOMINATE it.
Want to Learn More?
Of course you do. Our members have access to the full webinar recording, detailed notes, and a worksheet to go along. But we decided that this webinar was so full of Baby that we needed to share it with the public at large. That's why we've created a Cliffsnotes version of the webinar notes and a worksheet to share with you for FREE. Just click to view. Download it for easy editing.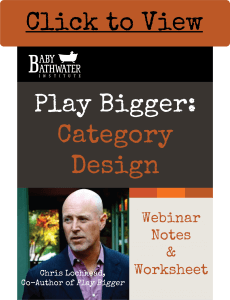 How Do I Get to Be a Part of This Membership?
We have a highly curated membership community that gets access to all sorts of goodies, including full recordings, notes, and worksheets of our weekly private webinars with industry experts.
If you're interested in membership, click here to apply.