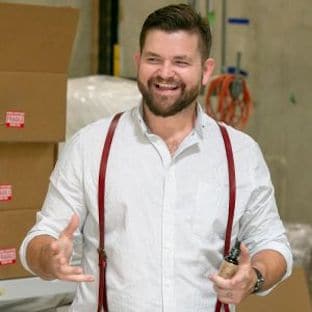 Curious and playful Devin is a generalist in MANY subjects, enjoying learning of all types. Devin enjoys nature, good times, inventing, mediating crisis and conflict (if well hydrated), breakfast, shopping at Target, sandwiches, sci-fi, LARPing, and playing with his 2-year-old daughter. He is currently pursuing his liberation and salvation through his Family, and Straight Hemp, a Cannabis CPG, although he is interested in diversifying his interests in real estate, coaching, and emerging technologies. He dreams of semi-retiring as an artist and full-time father/educator supporting the innovation departments of a variety of stimulating clients.
He seeks friends and peers to share the journey with, good times, and be of service to. He can be strangely shy, and come on strong. He is loyal, direct, and compassionate, although quite disorderly, both in a rebellious way, but also a nutty professor eccentric scattered papers way. He likes to get weird and wears the feather in his cap of psychedelic reform in Denver has been the OG petitioner for the bill and primary financial supporter at the outset.
He lives in Gainesville, FL (Alachua County) with his partner, children, dogs n cats. In previous lives he was a cadet in the U.S. Air Force, researcher and early stage developer of biofuels systems for DoD wastewater + phycosphere, a union carpenter, and bootlegger.
He can help with matters related to research/scientific/engineering/formulation, culture/personnel, conflict/crisis mgmt, provide active listening to any issue, and council early stage funding structure and raise dynamics. He could use help/mentorship with growing outside the current role he plays @ Straight Hemp as Owner/Operator.