Sorry, Baby Bathwater Island II is
SOLD OUT!
June 26-30, 2019 | Croatia
"Entrepreneur events are usually 95% people that are looking for these quick fixes. What you have at Baby Bathwater is the 5% that actually care about true impact and longevity. That's what separates this event from every other one."

Dan Martell

Founder, Clarity FM® and 3 Other Successful Exits
Canadian Angel Investor of The Year
"The perfect mix of top experts, a down-to-earth community of thinkers and doers."

Esther Perel

New York Times Bestselling Author
Host of the popular podcast Where Should We Begin?
What Really Makes This Event Different?
The curation is real, the community is inviting, and the attention to detail is unmatched
All attendees are pre-vetted via an interview with the founders
We look for how you can enhance the experience through both your skills AND personality.
If you're accepted to Baby Bathwater Island, you'll be among some of the nicest, highly skilled entrepreneurs you've ever met. Yes, kindness counts.
We know this because over the last five years, only about 20% of applicants have been accepted. And our policy is to only invite half the people back after each event.
We spend hours on the phone interviewing every single qualified applicant to make sure that the moment you step off the boat, you're going to dive into the best conversations of your life.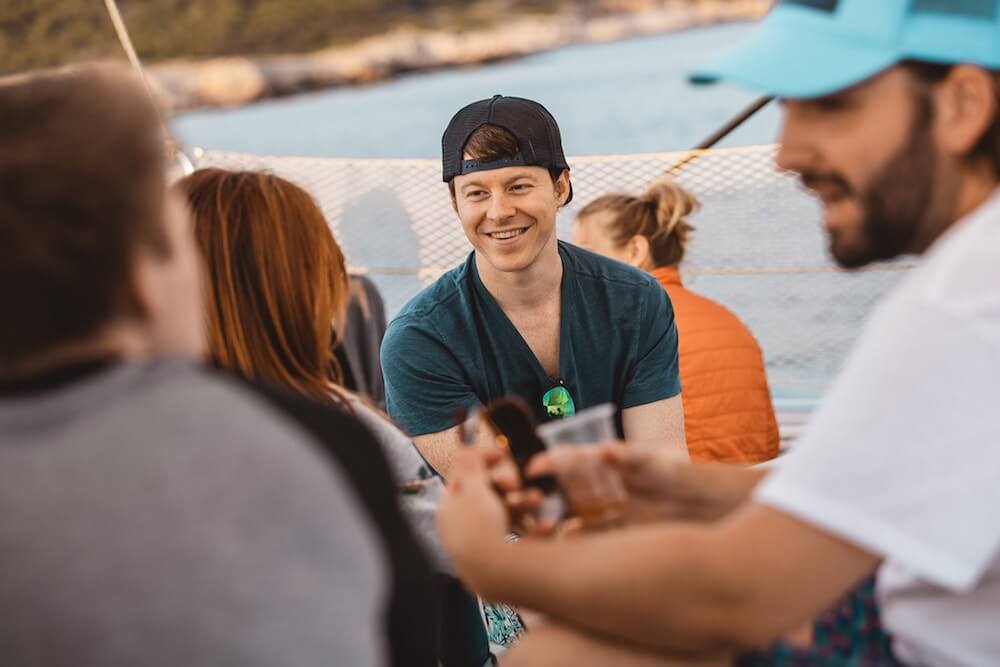 Come out of costume, eager to give, and you'll fit right in.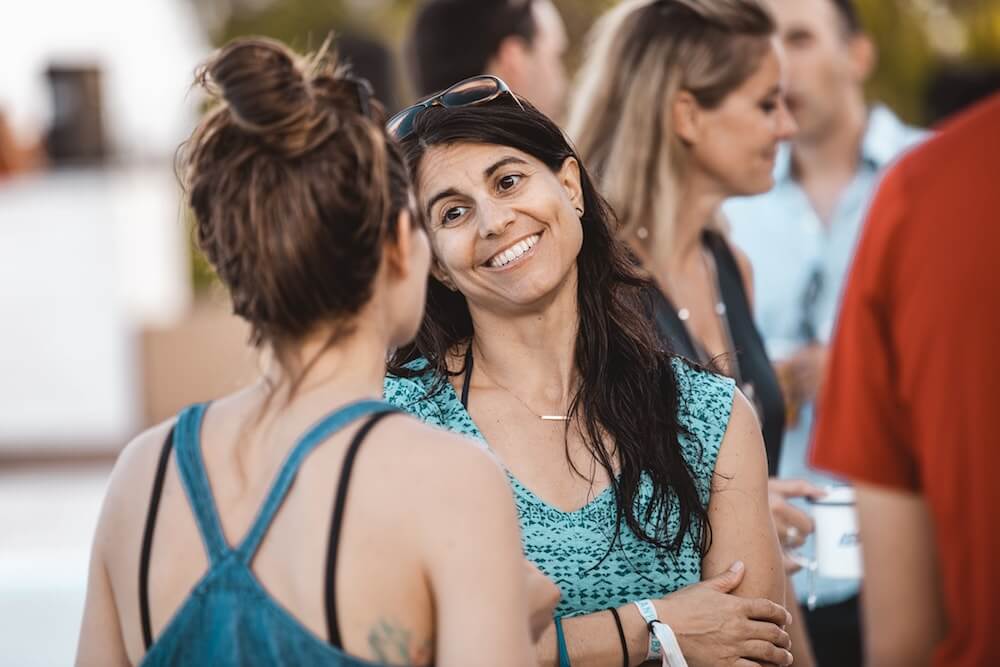 Down to earth + great listeners = great conversations.
From well-known founder-driven brands, to ecommerce store founders, to highly skilled boutique B2B firm founders, to neuroscientists, to philanthropists, the gang's all here.
You'll meet trailblazing thinkers and doers. The most important thing? You'll be among true givers who are excited to share and learn.
If you're kind, love to learn from interesting folks, and want to expand your connections and grow your business… then this might be the place for you.
"Baby Bathwater, unlike other conferences, isn't cheesy. It's real. It's straight up. It is what it is. Everybody here operates at a high level and BS is sniffed out from miles away."

Lauren Imparato

New York Times Bestselling Author
Retox® Yoga Named Best In New York
Led classes for 10,000 people on the Great Lawn of Central Park
"Not only do I love the other members, the hosts, the venues and the food, but it rocks my soul, boosts my spirit and teaches me high-ROI business processes and methods."

David Gottfried

CEO, the Gottfried Institute
Founder, U.S. and World Green Building Councils®
15 Billion Square Feet of Green Buildings in Over 100 Countries
What You Will Learn On the Island
Peer-to-Peer Content, Interactive and Absolutely NO Keynotes
There are 3 content areas on the island:
Starting at 10:00, every
two

hours we will have sessions in these

three

categories:
Customer Acquisition:

How to attract and convert customers with a digital slant
Grow and Scale:

How to truly scale through hiring, management, better operations and cash flow… the boring but important stuff
Peak Performance / Wealth:

A Combination of science-based peak performance training and wealth building
Some sessions are led by one human, and some are moderated panels.
Come only to the sessions that call to you, there is plenty else to do… This is your entrepreneurial adventure.
Here Are Some Humans and Content You Can Plan On…
Nine Figures by Integrating Social Work Into Your Business
BERT JACOBS — Co-Founder and Chief Optimist at Life is Good
Bert and his brother John launched their business with $78 in their pockets, selling T-shirts in the streets of Boston. Today, Life is Good is over a nine figure positive lifestyle brand. Inspired by stories of people, mainly children, facing great adversity, Bert and his brother created a fully integrated business model dedicated to helping kids in need. Life is Good donates at least 10% of its annual net profits to the Life is Good Kids Foundation to positively impact over 120,000 kids daily facing poverty, violence, and illness.
How to Approach Marketing Like a Nine-Figure Company
KAREN HAYWARD — Founder of Chief Outsiders, Former Chief Marketing Officer at Xerox and CenterBeam (sold to Earthlink)
Karen is the Founder and CEO of Chief Outsiders, a fractional CMO company. As a former Chief Marketing Officer at Xerox, Karen found over 60 EX- CMOs from companies like: Disney, Johnson & Johnson, WebMD and Kraft…. Who are available for fractional or project based CMO services for growing companies.
Hiring a Badass Marketing Team at the Executive Level
SUJAN PATEL — Founder of Mailshake, Web Profits, Pick & Narrow
Sujan has led the digital marketing strategy for companies like SalesForce, Mint, Intuit and many other Fortune 500 caliber companies.
More importantly, he's hired 50+ marketers and helped hire 25+ marketing executives. Sujan has created a repeatable process anyone can follow.
Advanced Media Buying – Creating to Learn
ADDIE CONNER — Founder of Decoded Advertising and 42 Birds Yoga
Addie is one of the best digital international media buyers alive, and in less than a year has created a leading environmentally friendly yoga mat company. Some of Addie's clients have included: Nike, Dollar Shave Club, Dannon, Visa, and HP. Addie is able to use her experience with giant budgets to teach her process to the regular folks like us.
The Soulful Art of Persuasion – How to Master Influence
JASON HARRIS — President of Mekanism / 4A's 100 People Who Make Advertising Great
Mekanism, with offices in New York, San Francisco, Chicago, and Seattle, has created provocative campaigns for such iconic brands as HBO, Ben & Jerry's, Amazon, Miller Coors, Peloton, Obama's White House, and the United Nations. Harris was named #5 on the list of the top ten most influential social impact leaders. His methods have been studied at HBR, which published a case study on Mekanism in 2017.
Using Instagram to Curate Viral Content
AUDREY CASTONGUAY — Founder Wholesome Culture – 130k Customers in 2 Years
Wholesome Culture is a clothing company dedicated to living an animal cruelty free lifestyle. It has exploded onto the scene in a phenomenally short period of time due to Audrey's ability to curate viral content to spread the message. Wholesome culture gives back to multiple charities and spreads its plant based message through clothing.
Competing With AI Through Psychedelic Pharmacology
JACK ALLOCCA PhD — Neuroscientist, Founder Somnivore Inc.
Dr Allocca is also a Neuroscience Research Fellow in the Department of Pharmacology and Therapeutics at The University of Melbourne. His research focus is on sleep neuroscience, artificial intelligence, psychedelic pharmacology and electrophysiology dynamics of consciousness. He started his career working in pharmaceutical research investigating the effects of psychotropic and psychedelic substances on sleep mechanics. In the last decade, he travelled over 50 countries, investigating the traditional and modern use of psychedelic medicines across South America, Polynesia and Papua New Guinea.
Doing Profitable Business with Walmart or Any Retailer
MELANIE MERKLING — Founder Tightrope Ventures & Louva Inc.
Melanie has a proven track record of generating profits in startups, reviving businesses under financial duress across varying industries and helping companies secure and grow their business with Walmart and Sam's Club. Melanie has worked with a diverse mix of clients, both domestic and international, ranging from tech start-ups to food producers to creative agencies seeking to grow their businesses. She specialized in sales, marketing and analytics to successfully get your product on retail shelves.
Performance Based Capital – The New Model
JOHN DURANT — Founder Wild Ventures, NYT Bestselling Author
Wild Ventures is an influencer-based fund focused on consumer health products and technology. Unlike most traditional VC funds, Wild Ventures assembles health influencer investor syndicates that have to perform to earn more equity. In a short period of time, John's fund has grown a very successful group of portfolio companies including: Thrive Market, Primal Nutrition, Kettle & Fire, Beekeepers Naturals, Steady MD, and now Magic Spoon (our favorite Keto Cereal).
Building Your Virtual Dream Team – Work Exponentially
ESTHER JACOBS — Top 10% Global Influencer & Digital Nomad
In 25 years as an entrepreneur, Esther has authored 25 Books, was knighted by the Dutch Queen, and has raised over $16 million for charities. She's been doing this while traveling to over 100 countries and living the life of a business nomad. Her secret is the ability to create virtual teams that allows for her ideas to become a reality.
China – Exploit the Demand for American Brands [Panel]
JAY FAIRES — Founder of The Wellness Agency, Band of Outsiders, Wellness Ventures
Jay Faires is an entrepreneur, investor, and founder of The Wellness Agency, Band of Outsiders, and Mammoth Ventures. Before all of this Jay was Head of A&R at Atlantic Records and President of Music at Lionsgate. Jay currently takes western health and wellness brands to Asian markets.
TODD TZENG — Founder of Falcon Fulfillment & Arilex Ventures
Todd Tzeng is a solution strategist and growth consultant. He's been a trusted advisor and business growth specialist for small and medium sized businesses all the way up to INC 500 and Fortune 500 companies. Todd has deep connections in China on both the investment, logistics, and fulfillment side.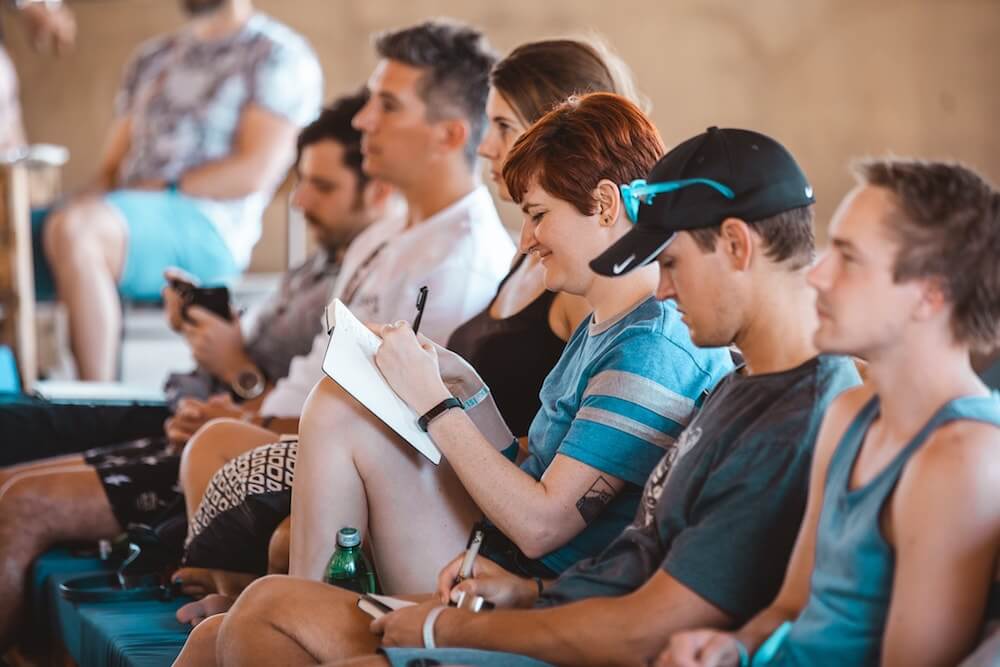 Feed your brain, fill your notebook.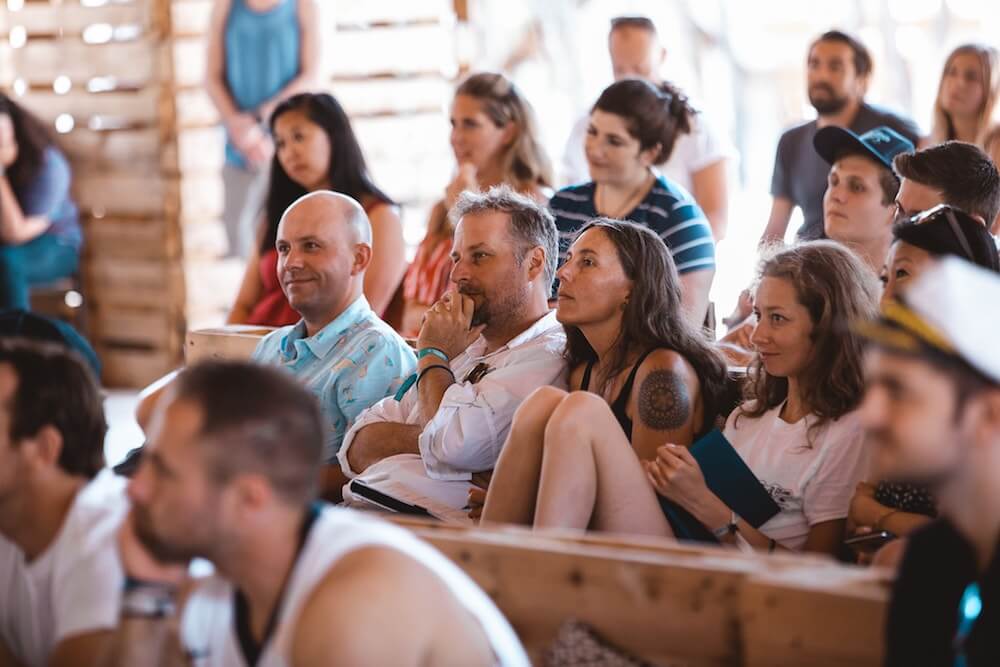 And 20 more content sessions (soon to be released) including content about and from…
The founder of the leading mushroom nutrition company in the world and international man of mystery

The rise of Digiceuticals – yes we have a founder who is doing psychological clinicals on his soundwave technology

Optimizing and Tracking Your Performance – from the leading bio-hacker in the U.K.

How to effectively use email marketing to grow your e-commerce company from the woman behind the scenes of some major online companies.

Becoming an investor/advisor from a man who has created a personal portfolio of four highly profitable companies.

Self Leadership and executive performance from a decorated combat veteran and current Teddy Bear

What you need to start doing NOW to prepare for an exit, from the man who built and sold a nine-figure language training enterprise

Everything you need to know about Shopify from multiple 8-figure store owners

How to handle it when you grow so fast that everything breaks…how to rebuild, adapt and evolve, from a woman who revolutionized the hair coloring movement

ELEVEN MORE AND COUNTING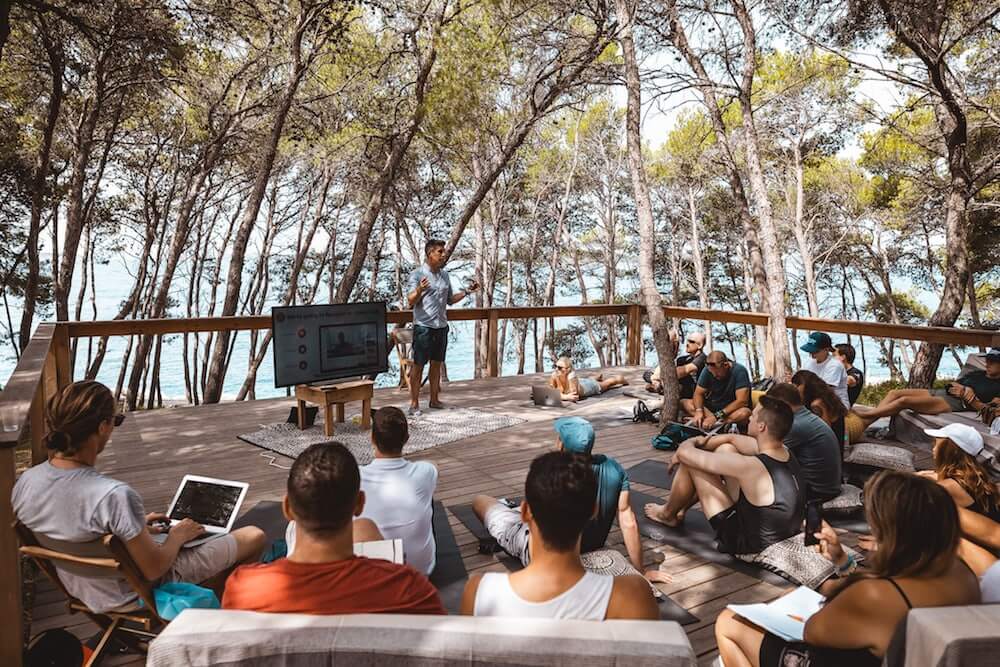 Class in session learning high-level social media strategies.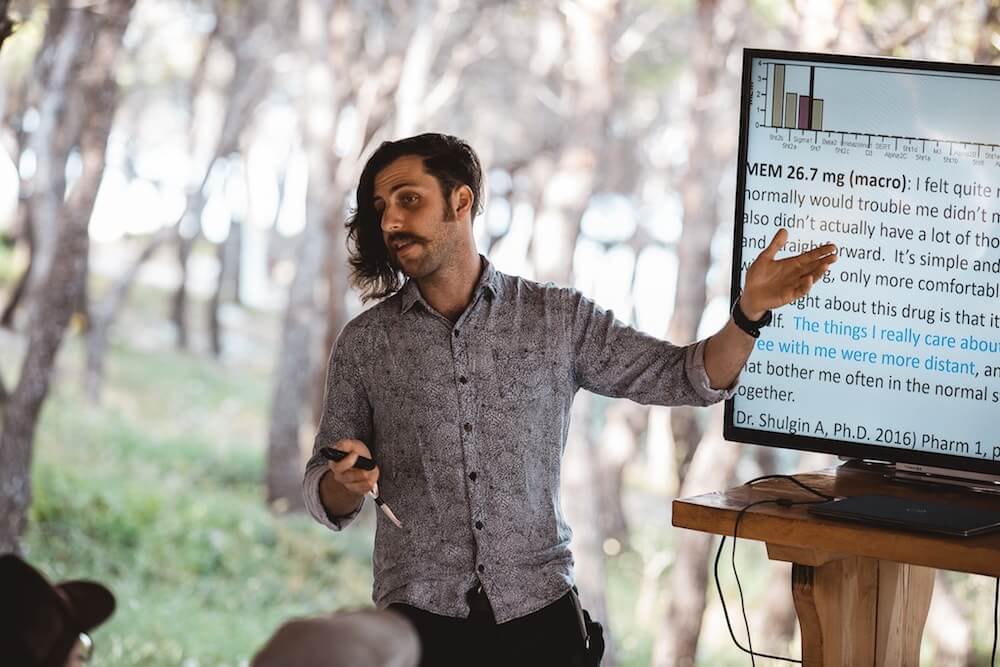 Getting the run-down on how our brains work from an actual neuroscientist.
"The people in the front of the room have actually done it…that combination of actual deep expertise and offering it to a community of peers, versus some kind of NLP transactional backend—I find it refreshing and that allows me to get more out of it."

Jamie Wheal

Co-Founder, Flow Genome Project®
Performance Trainer for Google, Nike, and Red Bull
Bestselling Author, "Stealing Fire"
"$20,000 in cash, or a free ticket to Baby Bathwater… I'm going to Baby Bathwater."

Allen Brouwer

Co-Founder, Best Self Co.®
Shopify Award Winner 2017, 2018
Everyone Here Has Something to Teach & Something to Learn
There are zero invisible dividing lines at Baby Bathwater happenings. Everyone here is personally invited. Everyone pays to attend. And everyone shares incredible value.
Hang out, ask questions, and have a drink with your fellow inhabitants (drinks are on us).
We don't have "speakers." We have generous content providers who are here to learn as much as they are here to teach. Who knows — we just might call on you to be on a panel or share your content after you successfully interview with us.
You'll leave Baby Bathwater Island armed with an arsenal of ideas and action steps proven to be effective in the real world.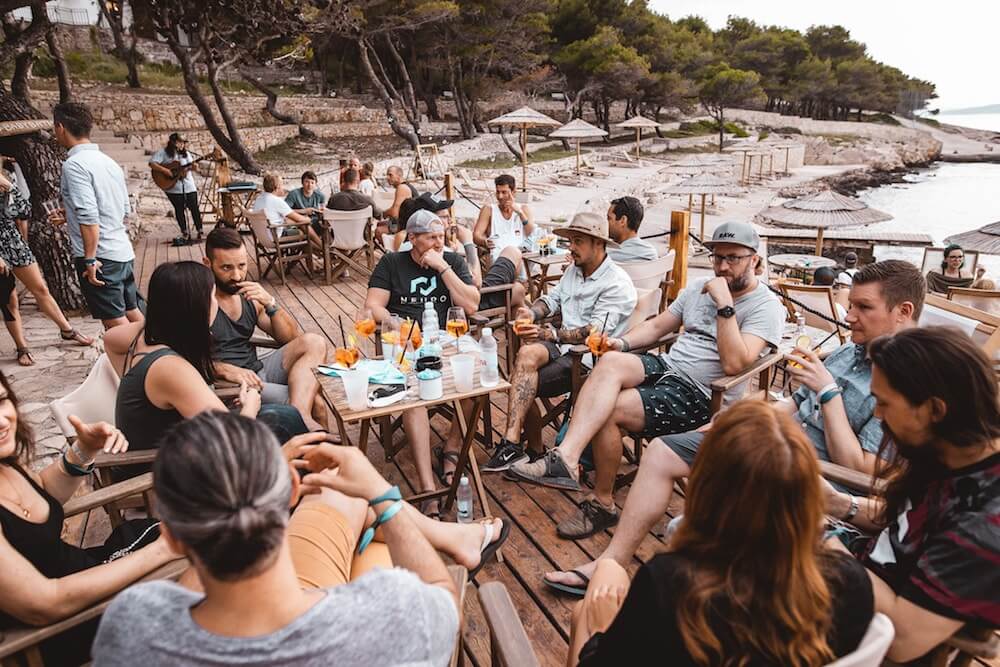 Beats the hell out of a conference room.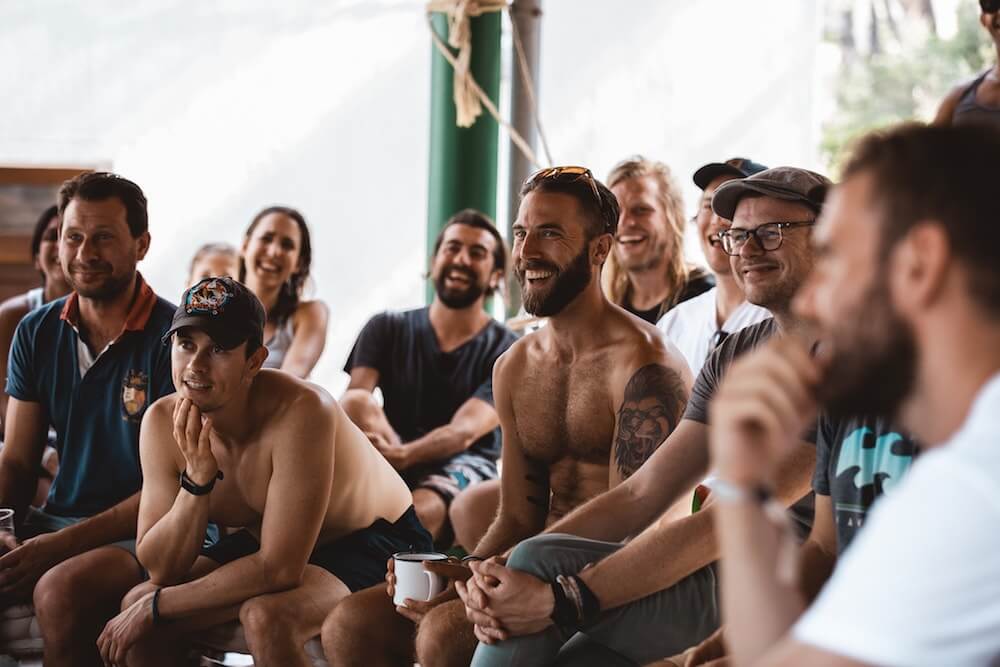 "A shot of soul with a chaser of strategy."
"I have revelations in every session that I sit in. I find that in just about every session that I go to, I learn things that are applicable to my business."

Randy Hartnell

Founder, Vital Choice ® Wild Seafood and Organics
Certified B-Corp and Recommended by the Top Doctors in the U.S.
"BBW is an absolutely epic event. Epic people, epic learning, epic connections, all in an amazing place with better food than you'll find anywhere."

Dave Asprey

Founder & CEO, Bulletproof Executive®
This is Your Safe, Pitch-Free Place to Grow
Baby Bathwater Island is a No Pitch Zone. No one's gonna ask you to sign up or buy anything. The person you sit next to at lunch won't try to recruit you or give you the hard sell.
Along with being super convenient for you and your wallet, this also means that all your other inhabitants are more comfortable kicking back and getting real here than anywhere else.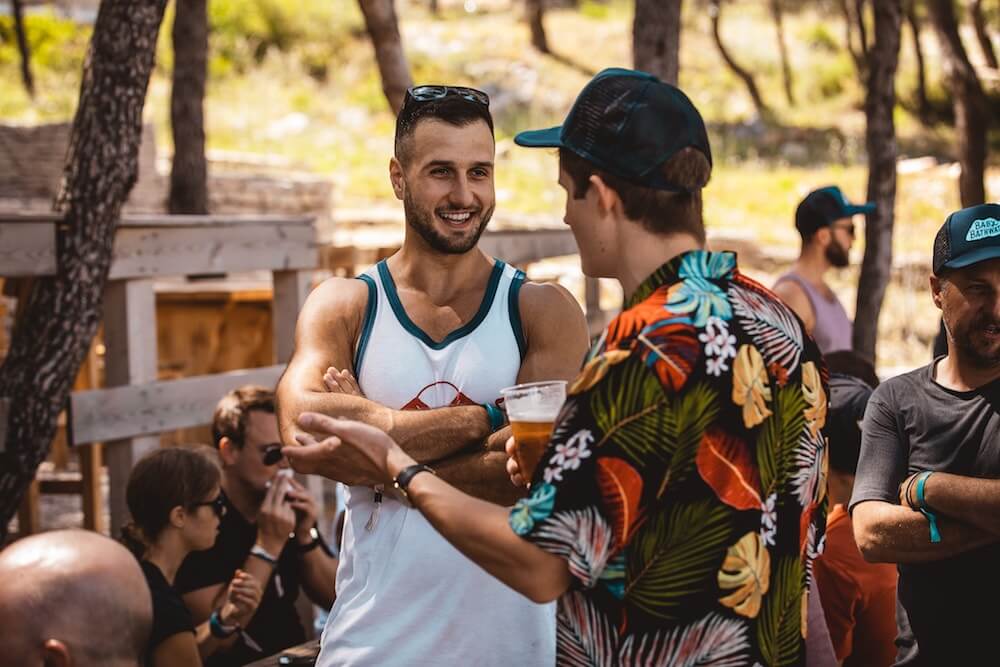 Teach. Learn. Relax. Connect.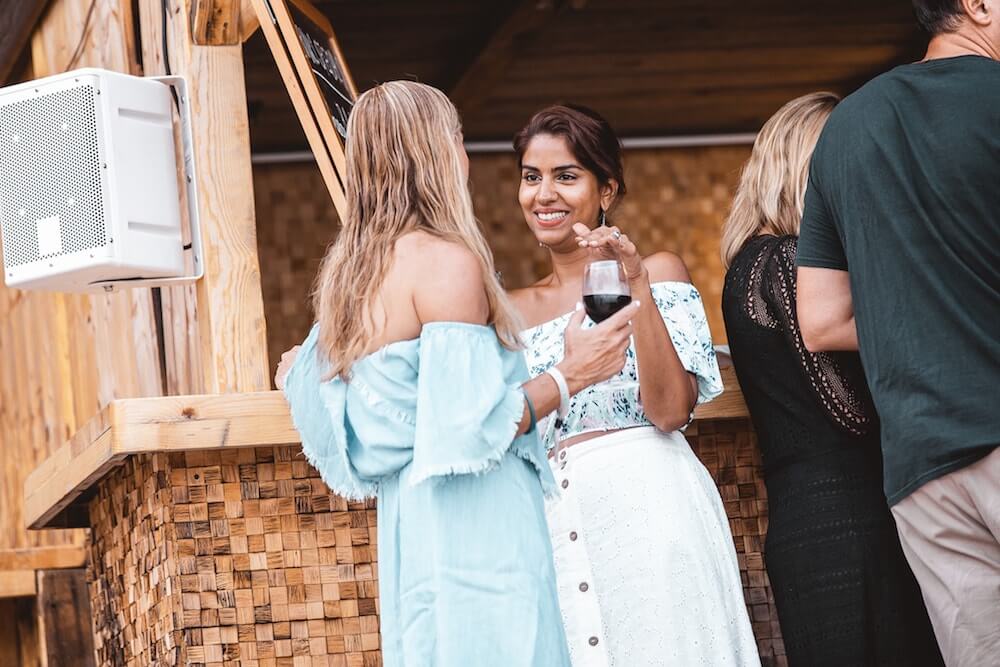 Riding a healthy buzz and getting familiar with each other over happy hour.
"A lot of people get into events by just writing a check. This is very different from that. So there's really no assholes or jerks here. It's just a laid-back group of people doing some really, really big things. I've never seen an argument here, besides really loud debates at four o'clock in the morning with whiskey. Those are fun, with really smart people."

Curt Maly

Co-Founder, Black Box Social Media®
So good at Facebook that they banned him for three years
8-Time Baby Bathwater Veteran
Bring Your Best Ideas and…
Get Ready for Conversations So Good, You'll Need a Cigarette After
Just a few topics you might find yourself mulling over a lip-smacking dinner of seared local fish, wild rice, crisp salad, and fresh peaches topped with cream:
The exact tactics 8- and 9-figure store owners are using to grow their customer bases

How to finance your next expansion

How to mine customer insight for higher-converting copywriting

Instagram ad strategies that no longer work anymore, and what's replacing them

Concrete strategies to grow your personal wealth

Boosting customer LTV through better retention

How to correctly microdose crystal LSD

Your new business you decided to create on the island

What firms NOT to hire and why

How to build high-level teams (so you can actually enjoy your time)

New technology and trends you need to start paying attention to

And so, so much more…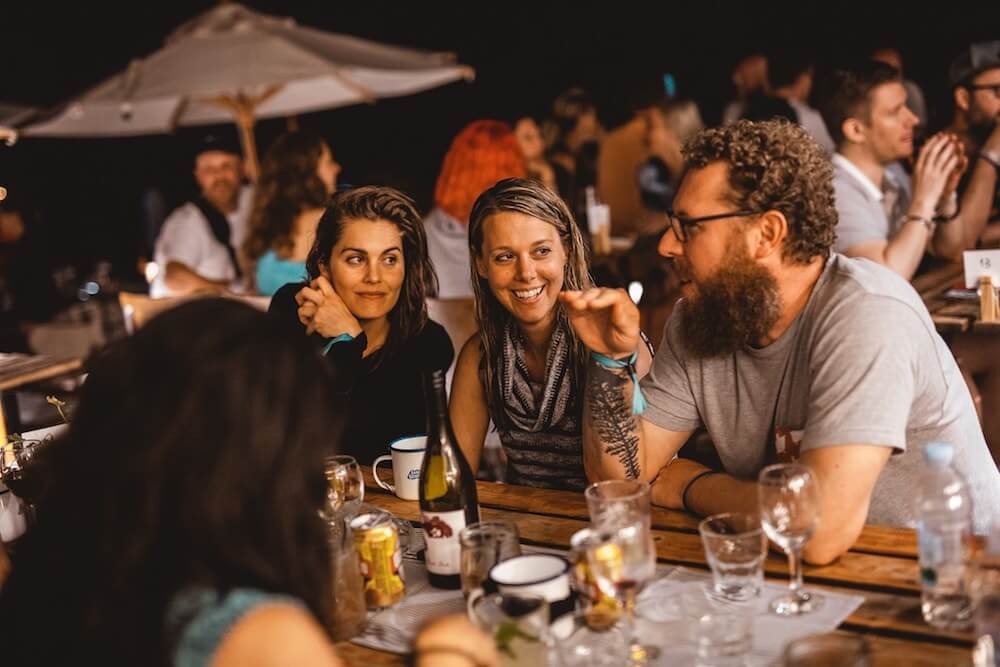 No matter who you sit next to at dinner, the conversation is guaranteed to be good.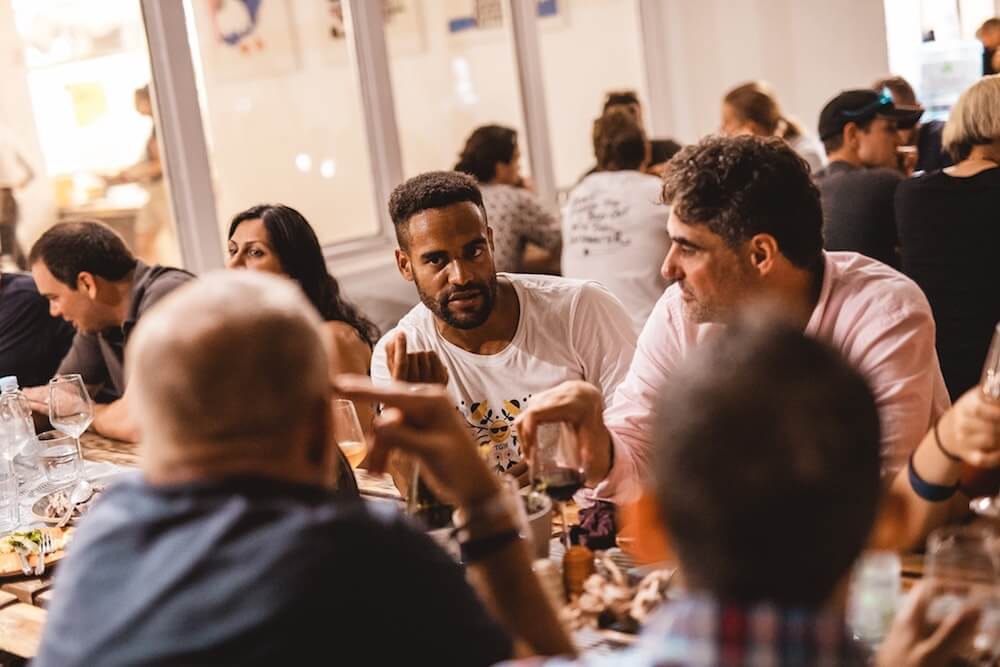 Get used to having your mind blown. It's normal here.
Form Spirit-Boosting, Soul-Opening Connections
John Donne said it first: No man (or woman) is an island.
Your business can't reach its full potential if YOU aren't working on reaching yours… which is why Baby Bathwater Island focuses on all aspects of growth, both in and outside of your work.
You'll meet and build lifelong friendships with founders who've struggled with the same challenges you're facing right now. You'll meet problem-solvers who give you the flash of clarity you need to see things in a different light.
You'll skip the name-dropping, business-card-swapping, ego-inflating emptiness and go right to the down-and-dirty business of creating the life YOU want to live.
You might even stay up all night with your new friends to watch the blood-orange sun rise over the coast of Italy…
And you'll remember why you started your business in the first place.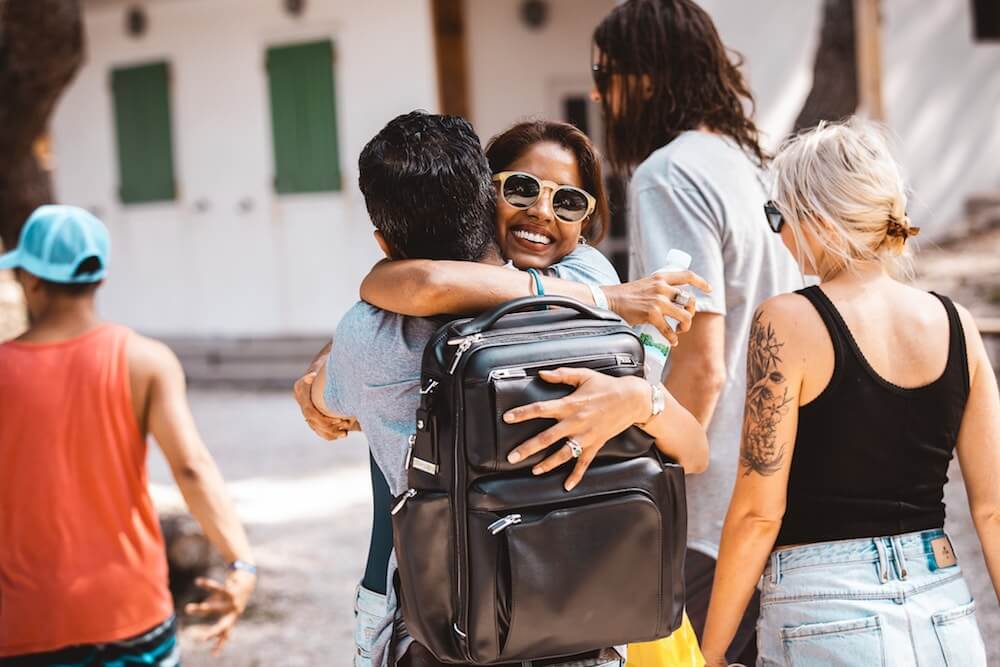 Skip the superficial and jump right into lifelong friendships.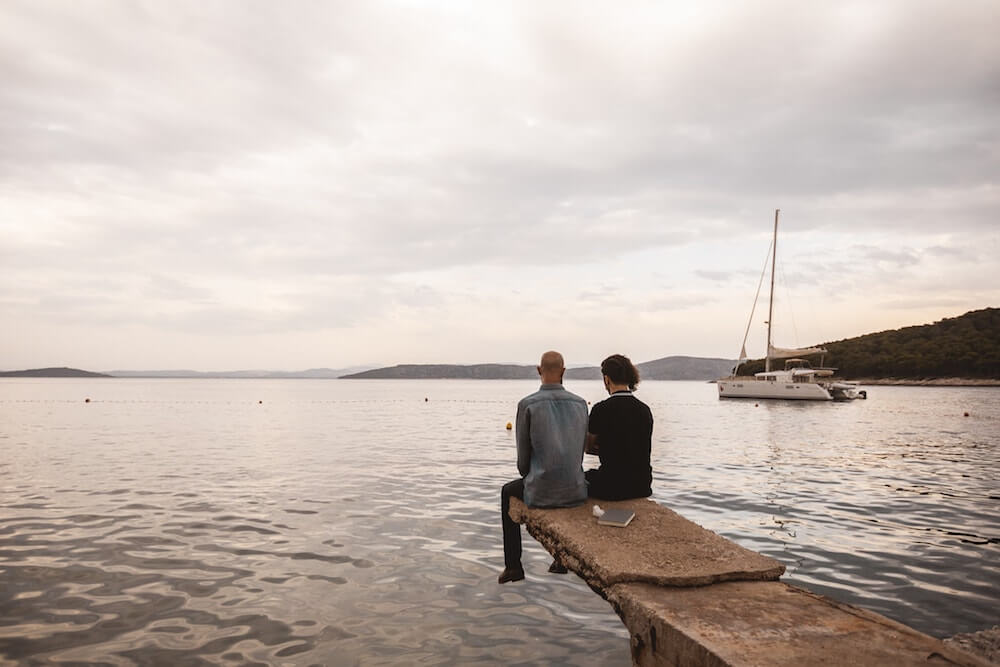 Not a bad place for a heart-to-heart.
"Without this event and these people and this group, I definitely would not be where I am today and my business wouldn't be where it is today."

Alex Brown

Co-Founder, Dollar Beard Club®
Founder, Subscription Hacks®
"I always look at ROI in a different way I think than others would… for me, it's value. It's hard to put a price tag on value, but I can definitely put a price tag on this and what I paid here is nothing compared to what I got back."

Steven Kuhn

Decorated Combat Veteran
Business Turnaround Expert
Founder, S2K2 Precision Management®
An Intimate & Private Setting
To keep the Baby Bathwater Island experience intimate — so you can form genuine connections — we cap attendance at 200 highly curated invitees.
Around half will be the "regulars," folks who've been in the community for years. So the culture will be strong. And half will be experiencing Baby Bathwater for the first time… so you won't be alone (not by a long shot)!
You can do the math. There are only 100 spots for new attendees. And over half of those are already taken.
Apply now to make sure you're with us on the island in June 2019.
And remember: freedom is something that dies unless it's used…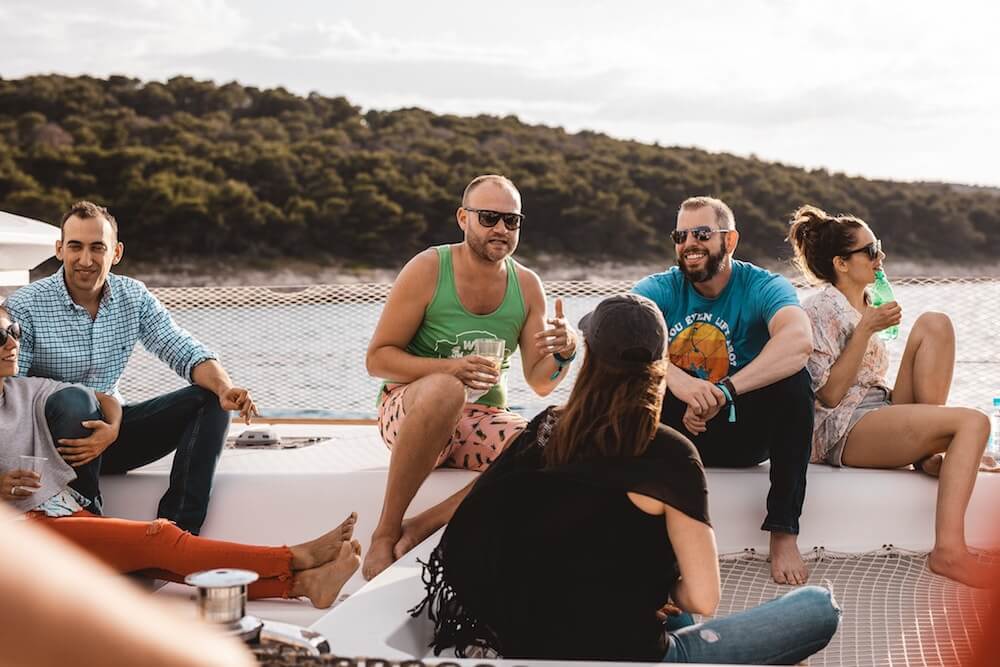 Part community, part family, all Baby.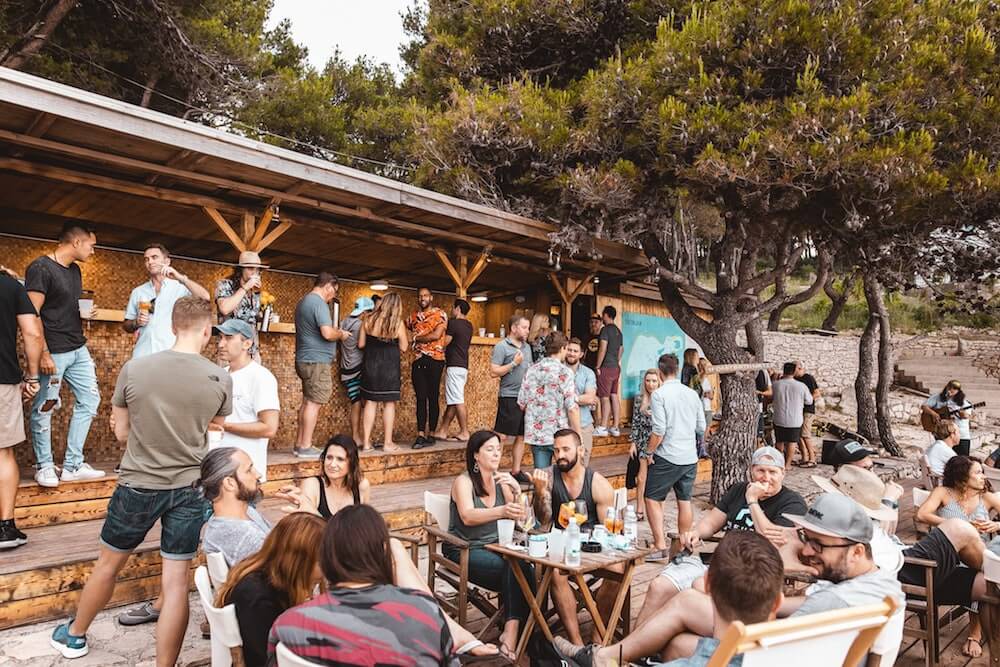 A group more powerful than the sum of its parts.
"Usually when I go to a conference, I find that most of the people in the room benefit greatly from the knowledge that I can share… but there's not as much that [I] can take away. But for me to be surrounded by people where I can literally learn something from every single person here — amazing levels of knowledge and people that are in all different industries, working in all different media, and teaching me things that I wouldn't have learned for three years if I did not come here. It is hands down the most valuable three days I have ever spent in my career."

Jenny Thompson

Founder, SafetyPIN Technologies®
Making Crowd Sharing Safe
Former CEO of 800 Million-Dollar Health & Wellness Company
"I've gone to a lot of events in my time, and now I limit myself to just a few. Realistically, my favorite event to go to is Baby Bathwater. Not only is it ridiculously fun, but I find the other folks there are at another level compared to any other mastermind, event, etc... I actually like and respect almost all of them (which is weird for me). And STRANGELY, the ones I don't like and respect aren't there the next time... Now that's curation."

Ian Stanley

Founder, Ian Stanley Conversions®
Refuel Your Soul (Without the Creepy New Age Stuff)
We've got your animal pleasures right here
Savor the best food & wine you've ever had at an event
Look, hotel catering sucks. We know it. You know it. And we'll never subject you to it.
Baby Bathwater Island is home to multiple restaurants and bars. Once you've worked up an appetite, stroll in for a light lunch, tasty snack, or fresh smoothie made with local produce.
And just in case you were wondering what to drink with your meal, we've got you covered with unlimited, all-natural artisan wines from Dry Farm Wines. Not to mention open bars wherever you go on the island.
Cheers to making new connections…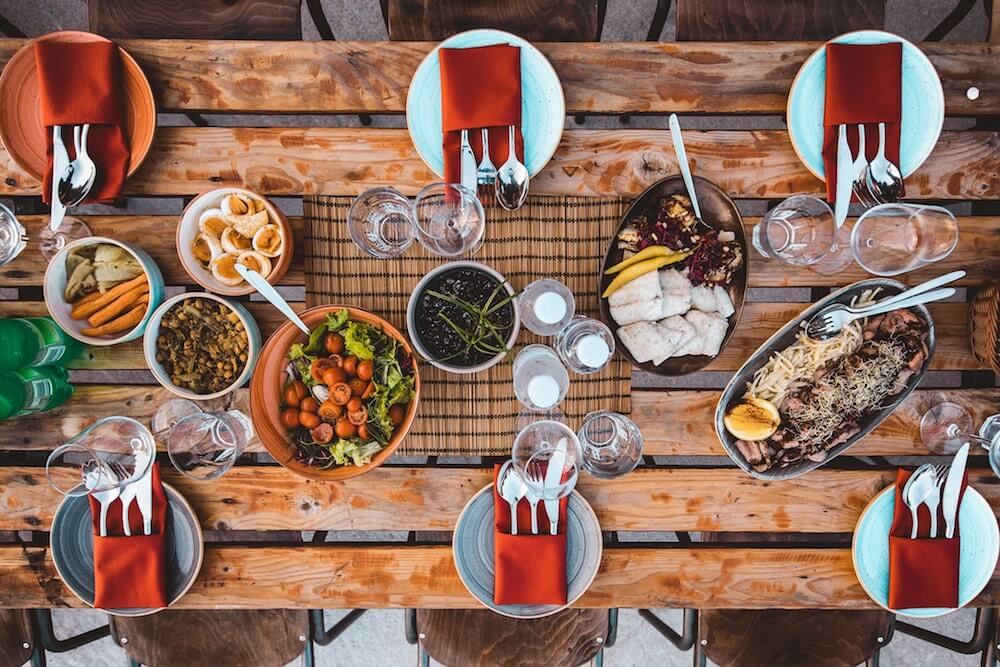 Dinner time, compliments to the best chef human.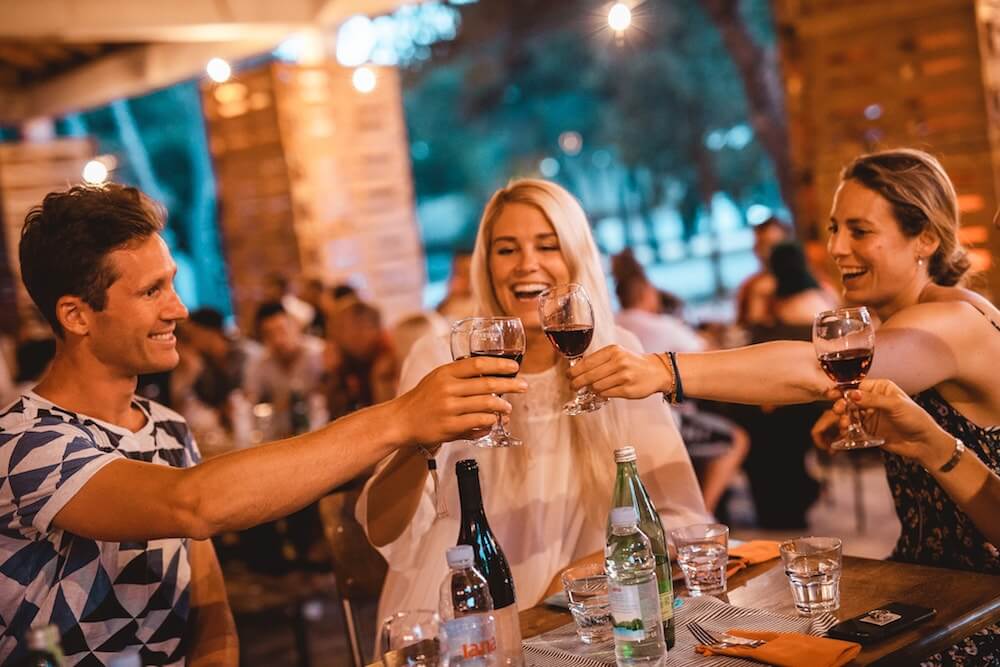 Dry Farm Wines keeps the good times flowing with incredible all natural artisan wines.
"Oh my, these lamb chops are so fucking good that I can't stop eating them, and I hate lamb chops."

Some Guy Eating Lamb Chops at the Event
"Everyone here is accomplished, driven, intellectually stimulating, kind and understands that even though we run businesses… we're animals."

Bert Jacobs

Co-Founder, Life is Good®
Yes, That T-Shirt Company.
The one you bought in that beach shop years ago that you still wear.
Cut Loose With Live Music Every Night
You can dance if you want to. You can leave your friends behind… Better yet, dance WITH your friends.
Every night on the island features top-notch entertainment to get the party going. Just like the food, we leave nothing to chance. Our favorite musicians take the boat in with the whole Island crew and spend the whole five days serenading us. You'll love them, too.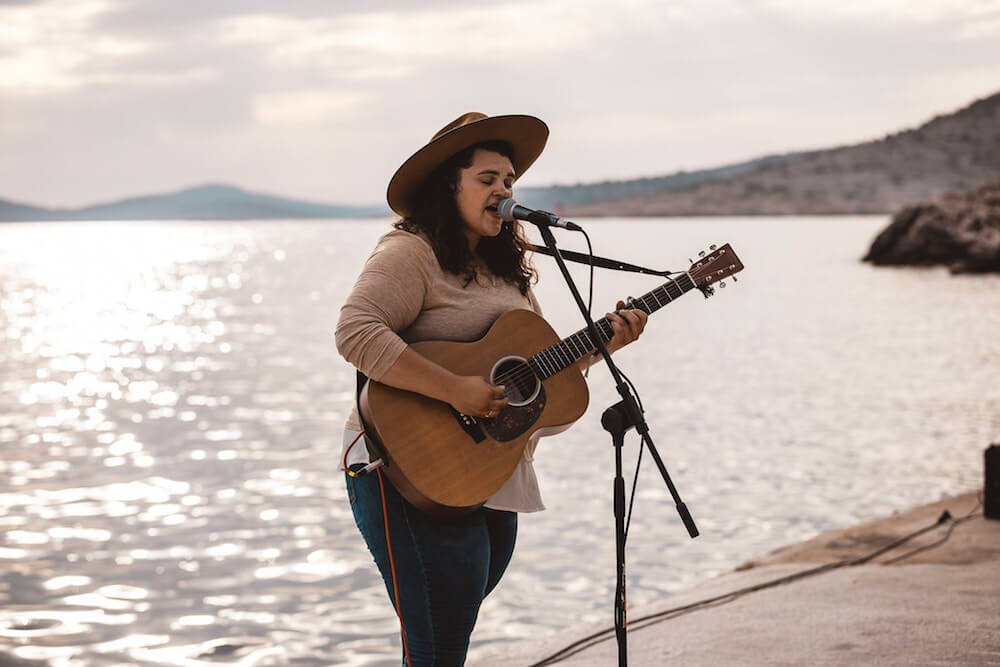 Happy hour by the sea complete with live music and new friends. Life is good.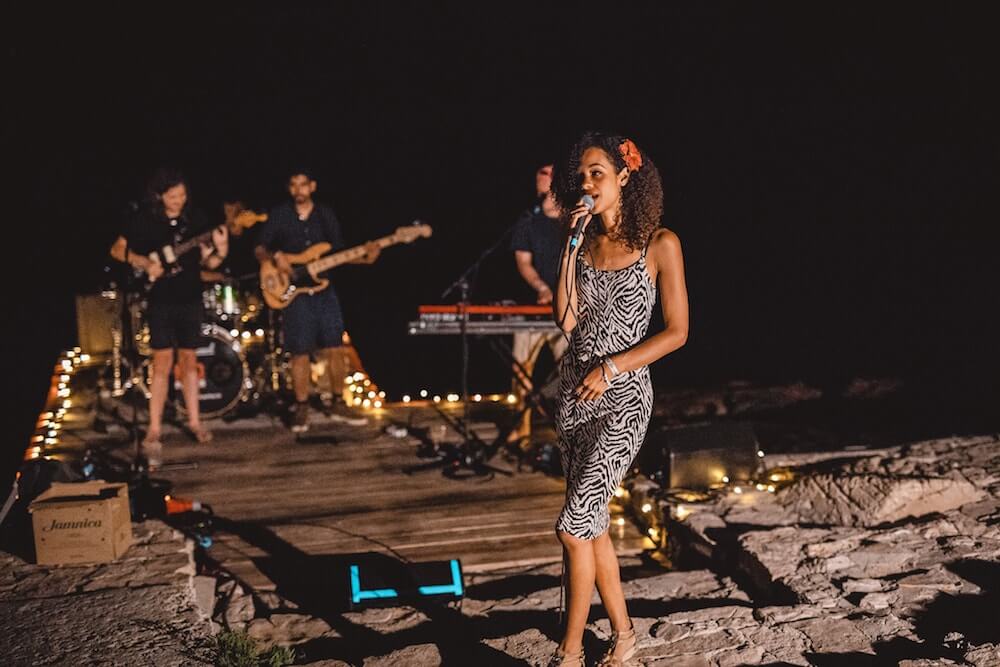 At night we put our dancing shoes on and boogie down 'til sunrise.
Relax With a Quick Swim, Stand-Up Paddleboarding, Sailing, & Sun
Want to stretch your legs between sessions? Dive into the sparkling Adriatic, hop on a paddleboard, or head to the catamaran for a refreshing cruise around the island.
Like we said, everything's included. Yep, even your towel.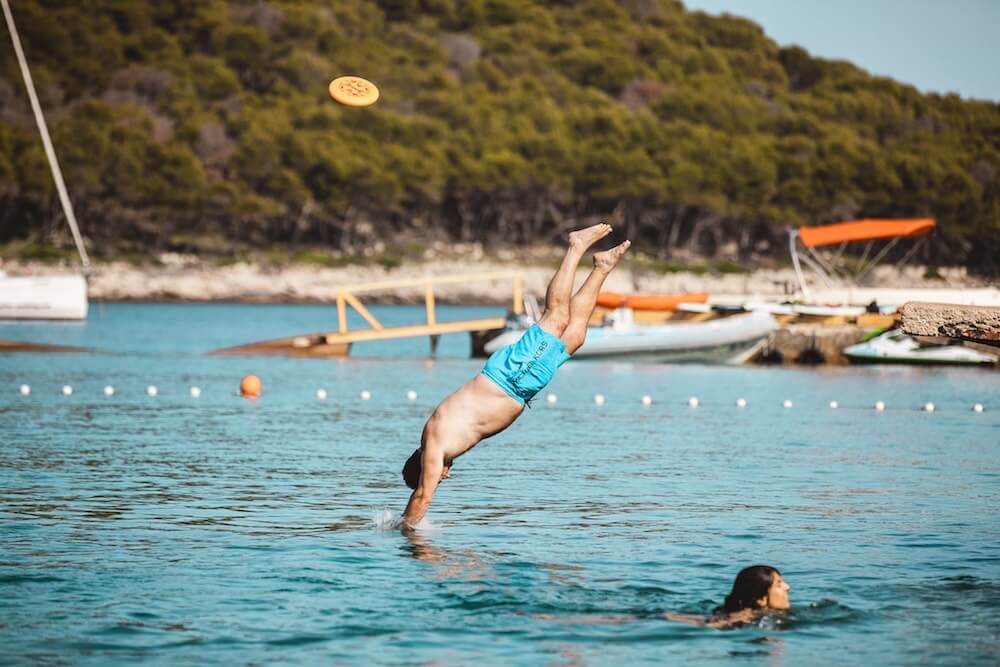 Come on in, the water's perfect.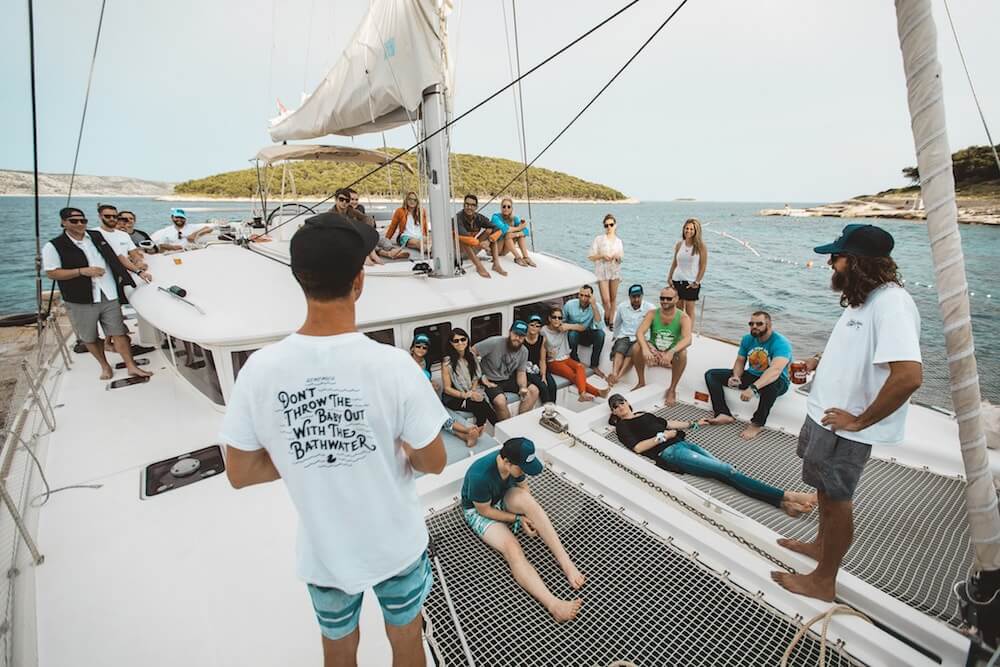 Or hop on the boat for a tour of the Adriatic…
Rest Up in Your Luxury Bungalow
Baby Bathwater Island bungalows come fully equipped with air conditioning, USB ports, a bathroom with a shower, closets and hangers, a safe, a fridge, and a hair dryer.
—> Flying solo? You'll get your own room in a two-room bungalow, and don't worry – your neighbor will have similar interests and experiences that complement your own.
—> Bringing a partner? Book a bungalow all to yourselves. You can thank us for rekindling your relationship later.
Wake up every morning and walk out onto your porch right into rustling trees and a warm coastal breeze. Then come to breakfast, 'cause you're not gonna want to miss it.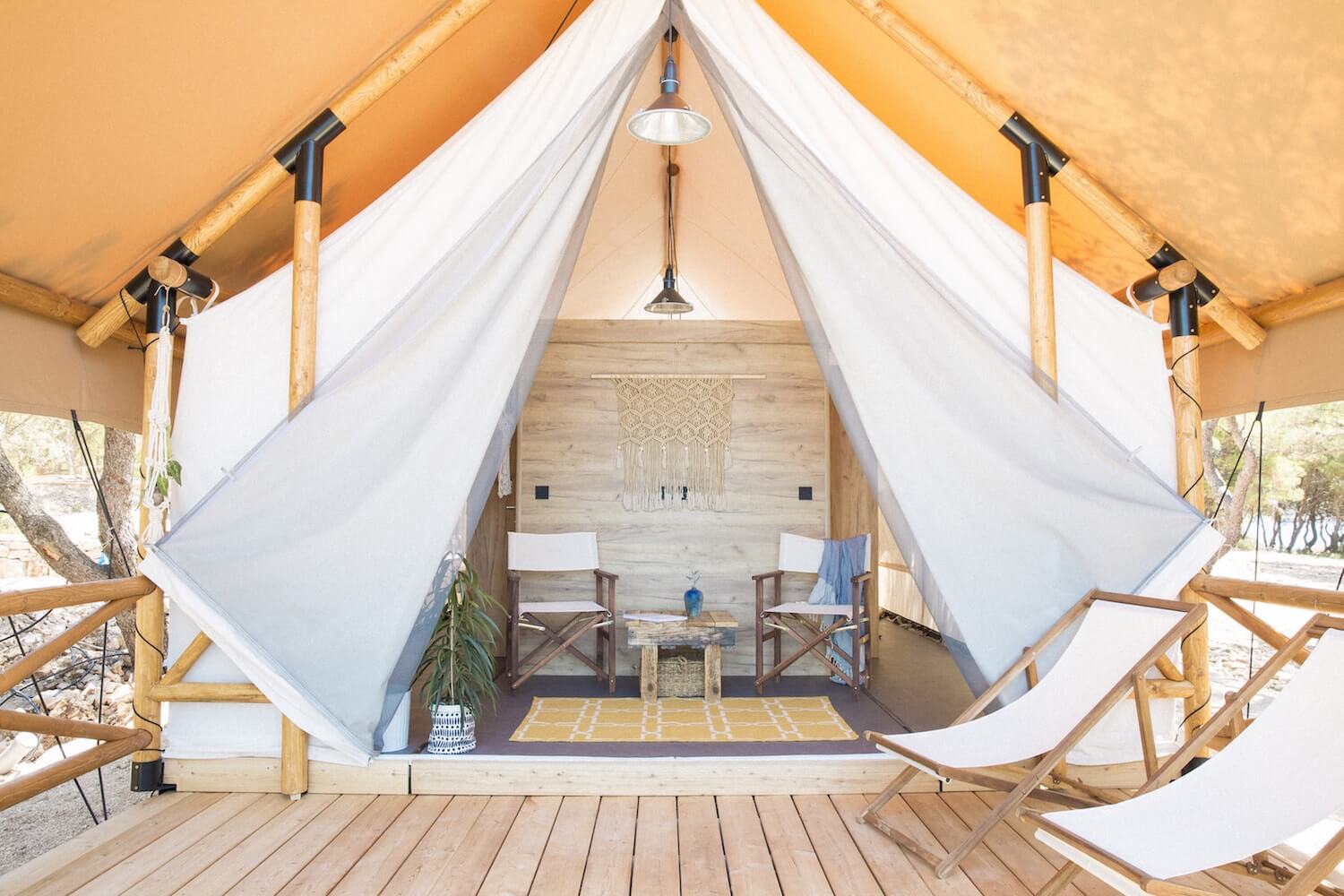 Don't worry, you're not "roughing it." This is glamping at its finest.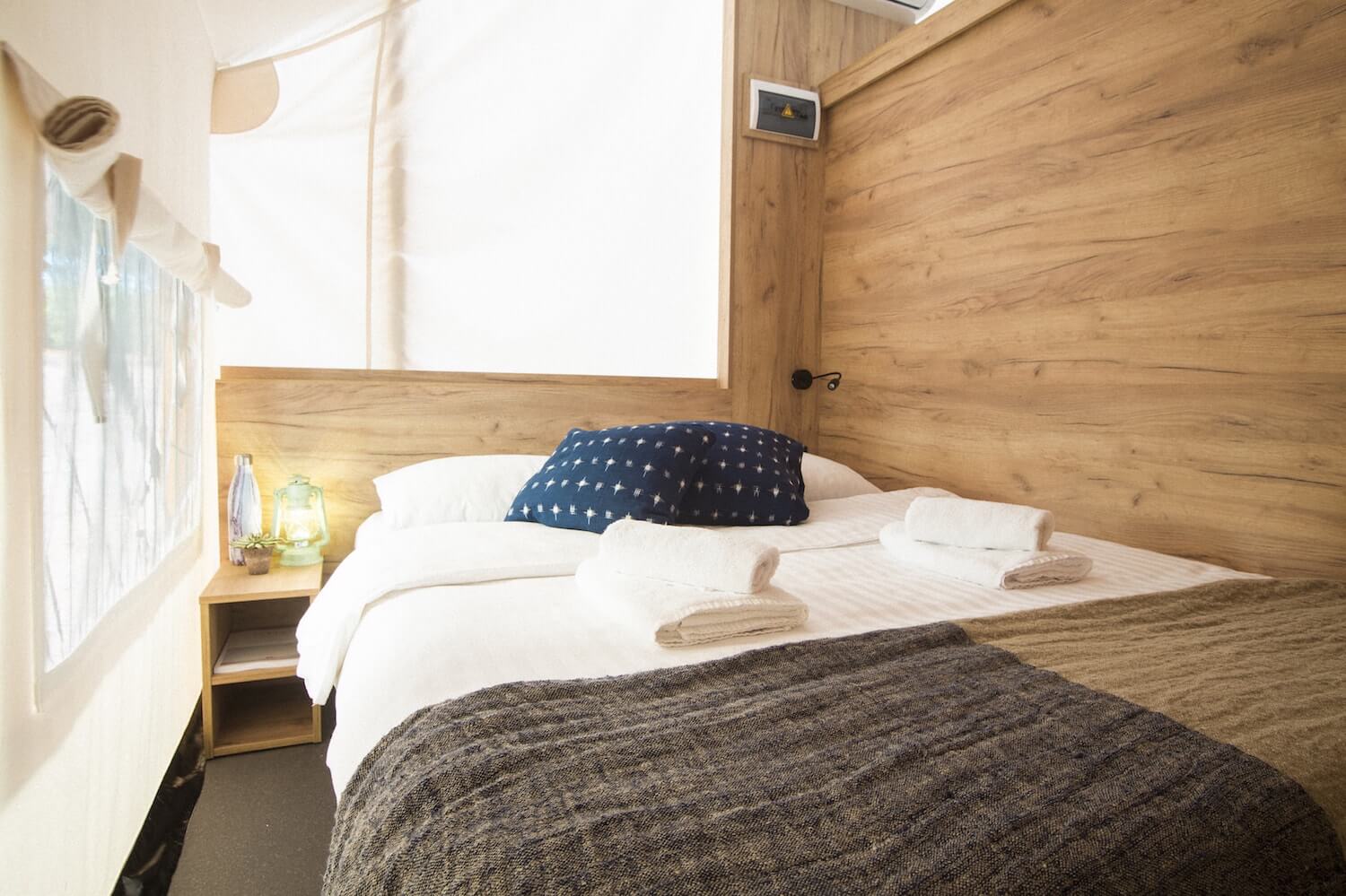 At the end of a long day, sink into your comfy bed (conveniently located directly below the AC unit).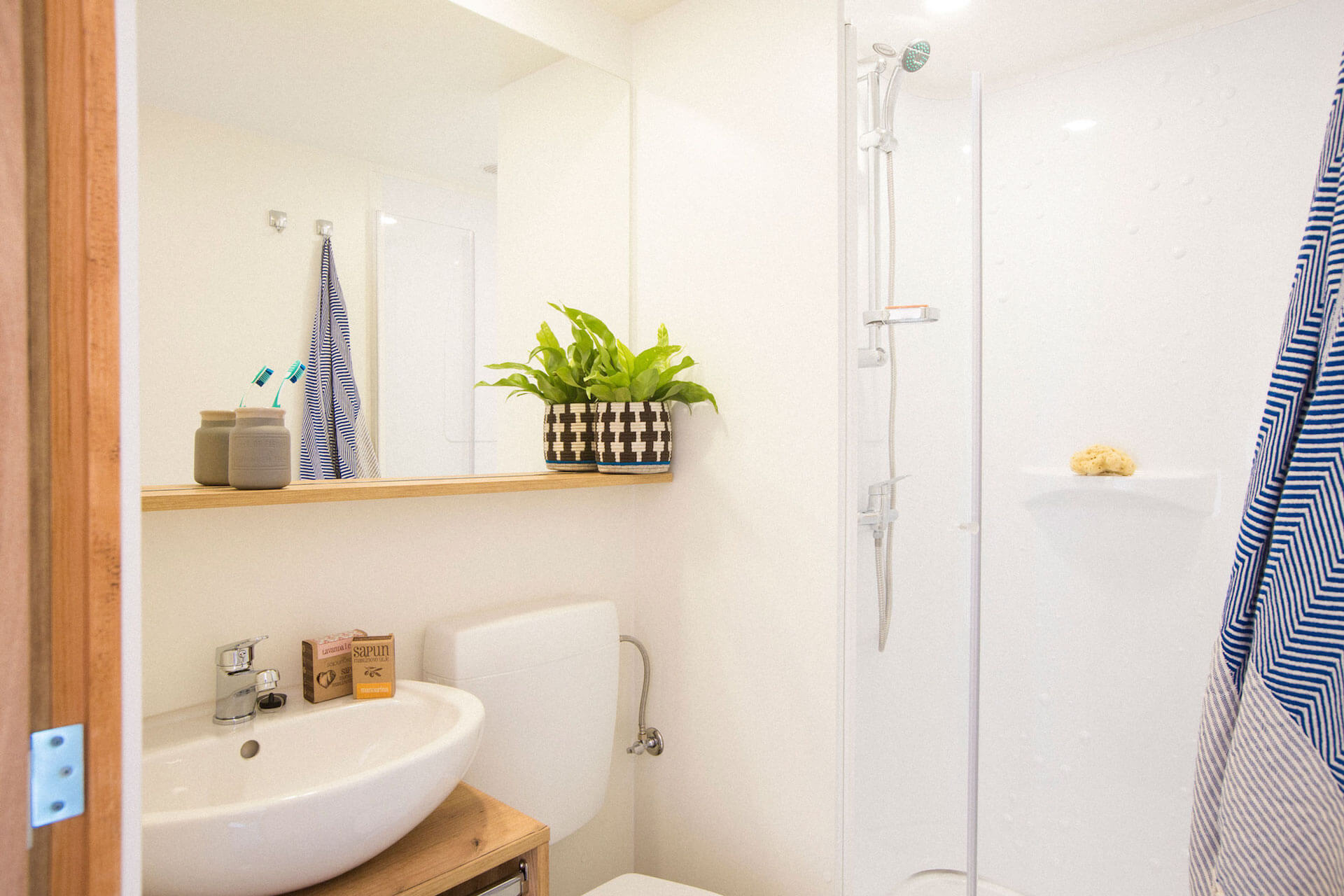 Each bungalow has its own bathroom and shower with plenty of hot water for rinsing off between dips in the sea.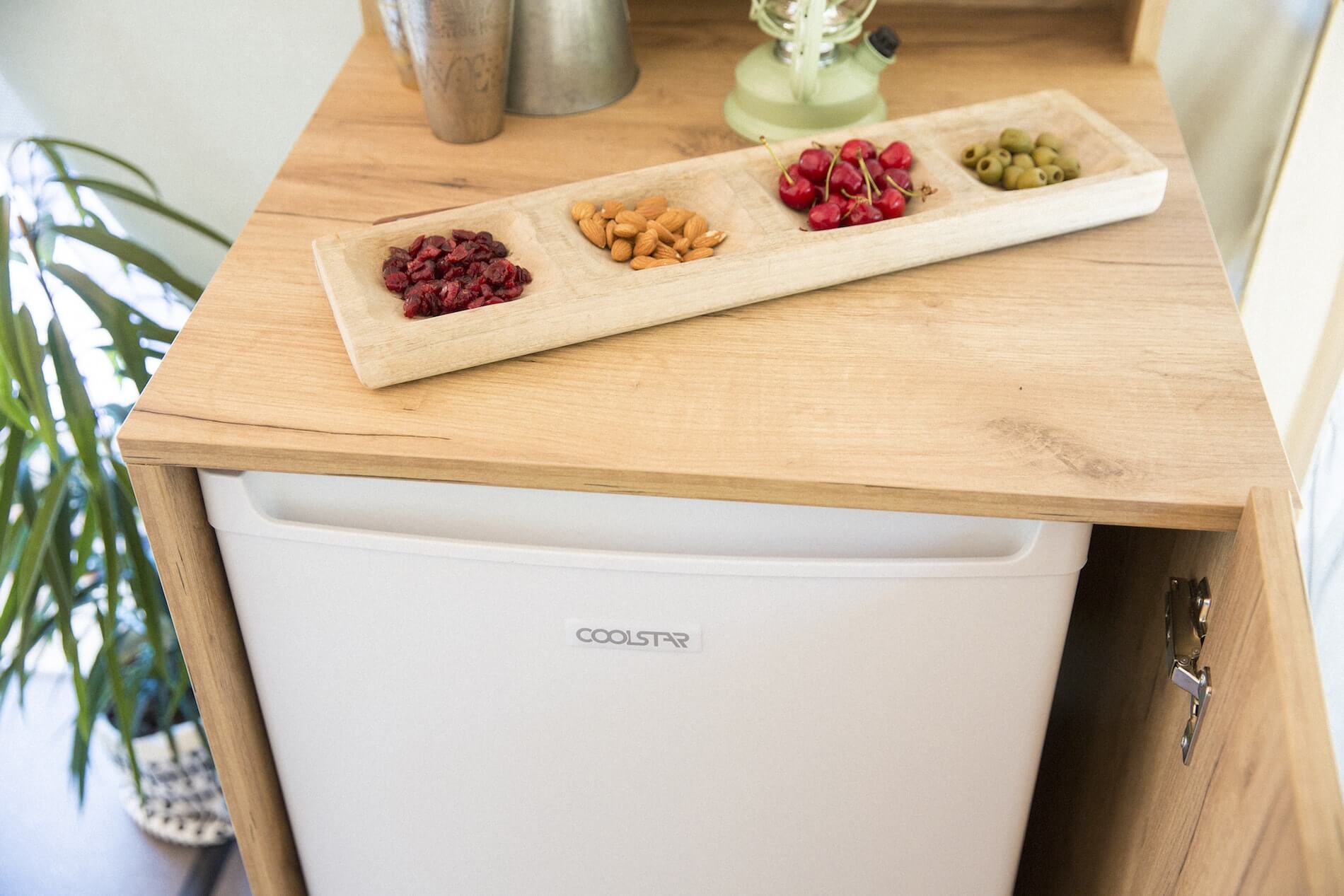 Got the late-night munchies at 2am but couldn't finish the whole pizza? Save it for later in the mini fridge.
(And Holy Shit, These Views)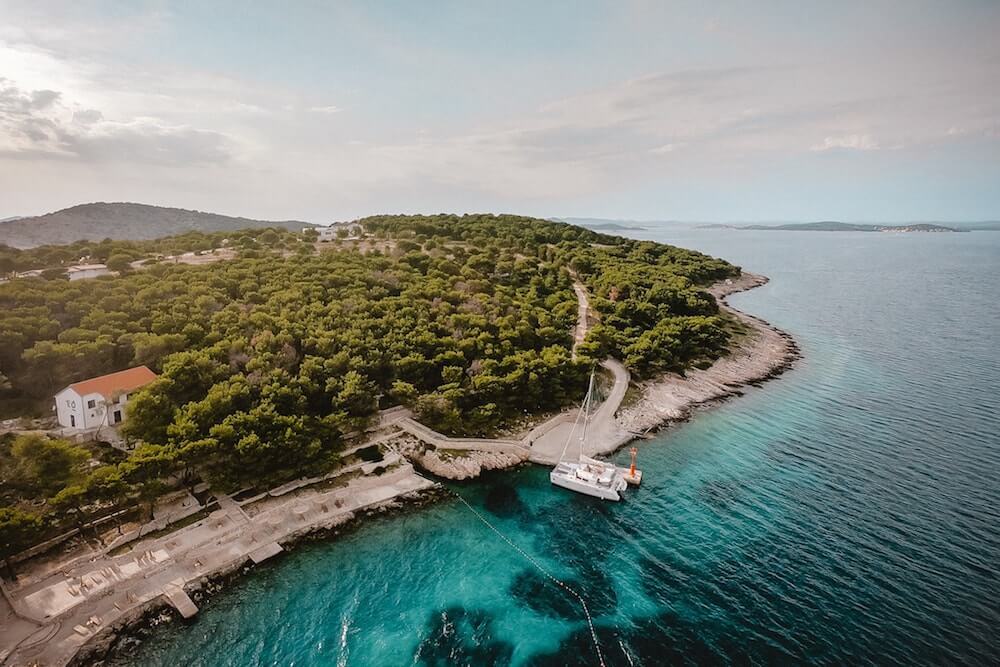 The Island in all her glory.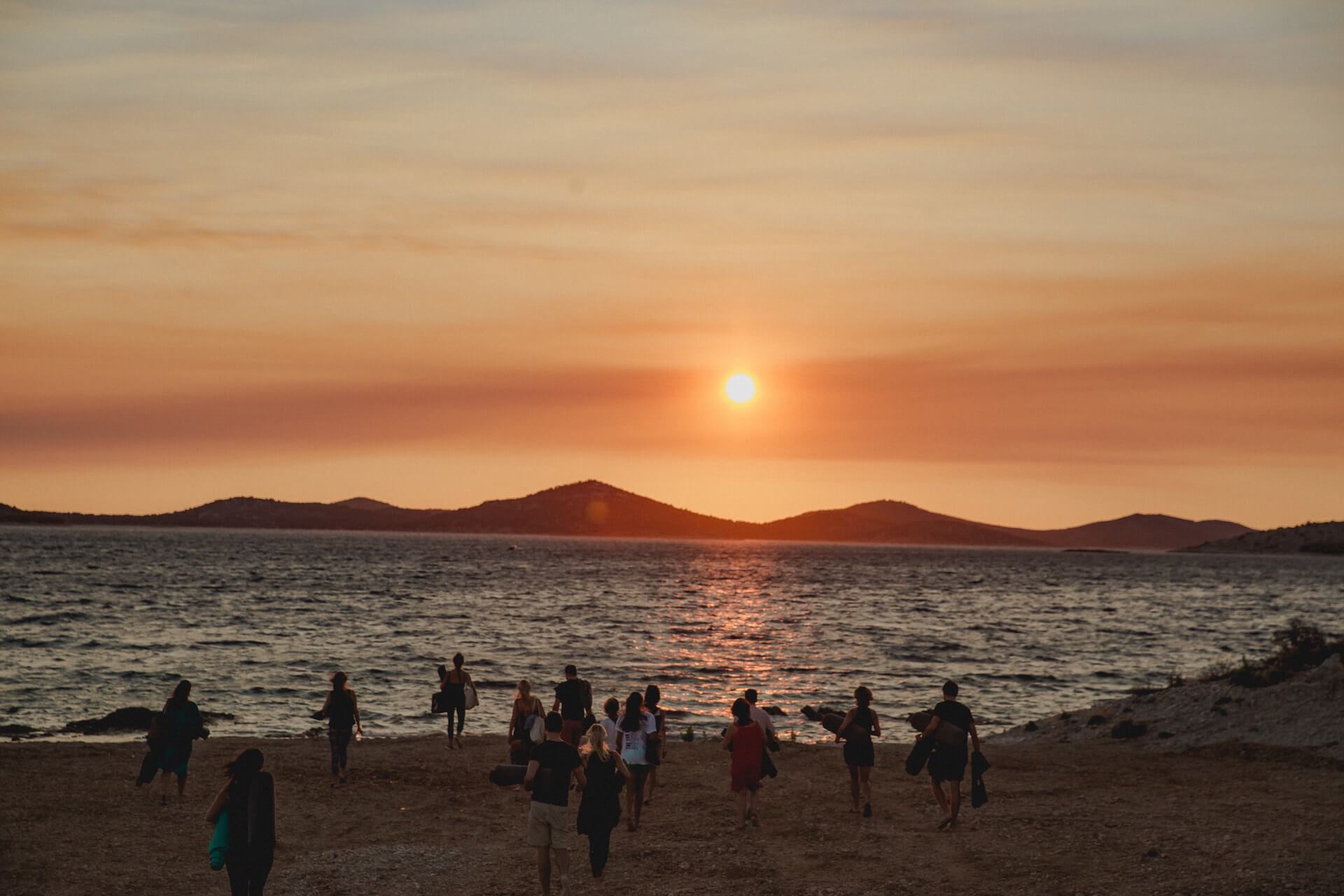 "Baby Bathwater is unlike anything that you'll ever get in any other conference. Actually, it's not a conference… it's meeting like-minded people that are doing great things in the world who are all playing on the same level or the level that you aspire to play."

Tom Ness

Co-Founder, Truth Nutra®
(8-Figure Nutraceutical Company)
"Our time is finite. As entrepreneurs, we want to spend our time doing things that we feel will give us our biggest return on our investment. And in life in general, you want to spend your time on things that you feel are going to enrich you. And this is such an enriching experience... what I love… is that there's such openness, and willingness to be vulnerable... I've cried a lot this weekend and it's all been good, so thank you!"

Kelley Herring

Publisher/CEO, Healing Gourmet®
Your investment: $10,000 if coming solo | $18,000 if bringing a partner
Big Thinkers, Boundary Pushers & Lovable Nutjobs to the Front
If you're the right fit for Baby Bathwater Island, you're smart, kind, humble, ambitious, and open to learning and trying new things.
You don't need someone to hold your hand and show you around. You make the most of every opportunity. And opportunities like this don't come around often…
Who Comes to Baby Bathwater Island, By the Numbers
Owners of 7- to 9-Figure B2C Businesses selling physical products, software, and services. Giving a shit about your customers is a must.
Owners & Freelancers providing digital marketing, branding, and growth services. AKA unbeatable marketing and strategy from people who are just as pumped about your brand as you are.
Influencers & Up-and-Comers who can help you grow your brand, get massive exposure, and connect with the right audience.
Investors & Mentors in search of new business opportunities and promising minds.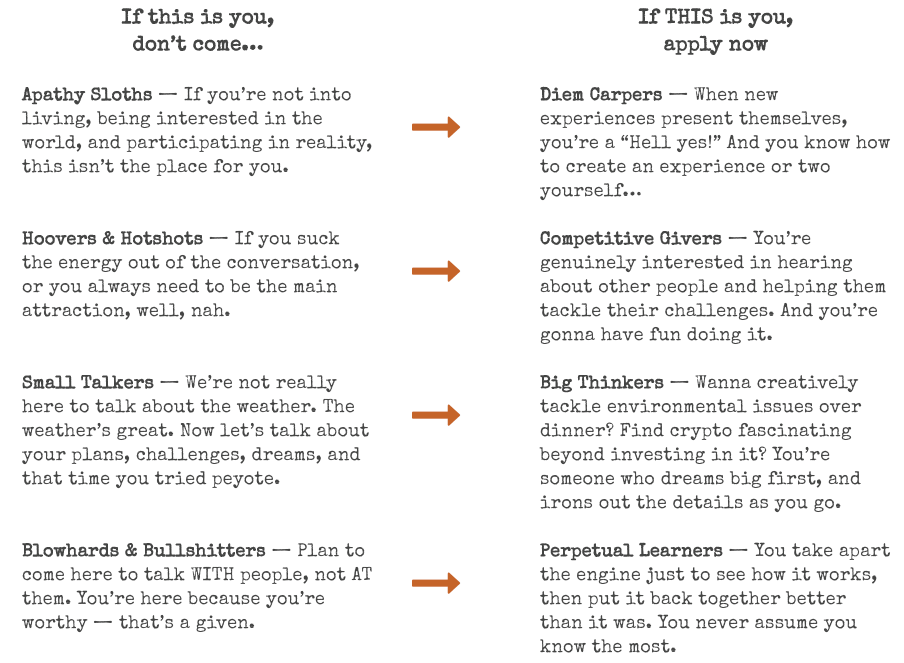 "Michael and Hollis' event isn't a conference — it's a pop-up think tank.
Dozens of niche experts and global changemakers laid all their cards on the table and made it almost impossible not to make big plans.
Every conversation, every delicious meal, and every crazy activity was focused on connecting people and building better networks. If you're serious about making money and changing the world, you can't find a better group of people."

Zach Edwards

Obama Campaign's Social Media Manager
CEO of Data-Driven Consulting Firm Victory Medium®
Baby Bathwater is a collective of entrepreneurs, founders, thinkers, pioneers, and good-hearted, open-minded humans.
We're passionate people with a penchant for straight talk and screwball adventures. We're here to throttle the nectar out of this life — because otherwise, what's the point?
It doesn't matter how much money you make or how many followers you have. What matters is what lights you up from the inside. The reasons you do what you do. The beliefs and curiosities and goals that make you who you are.
More baby, less bathwater. That's what we're all about.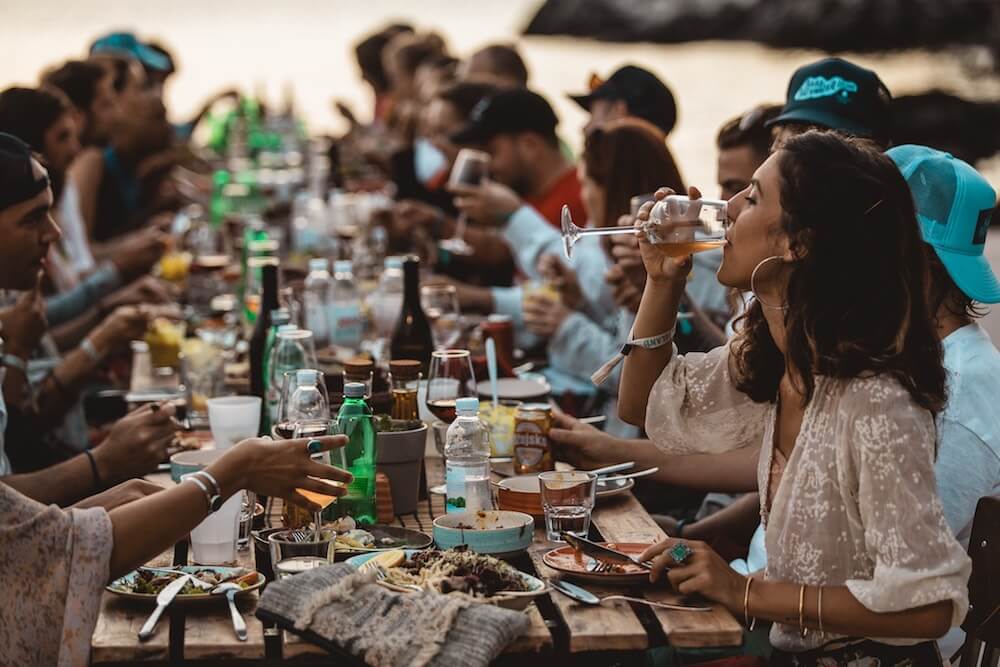 No quicker way to our hearts than good food, good drink, and good company.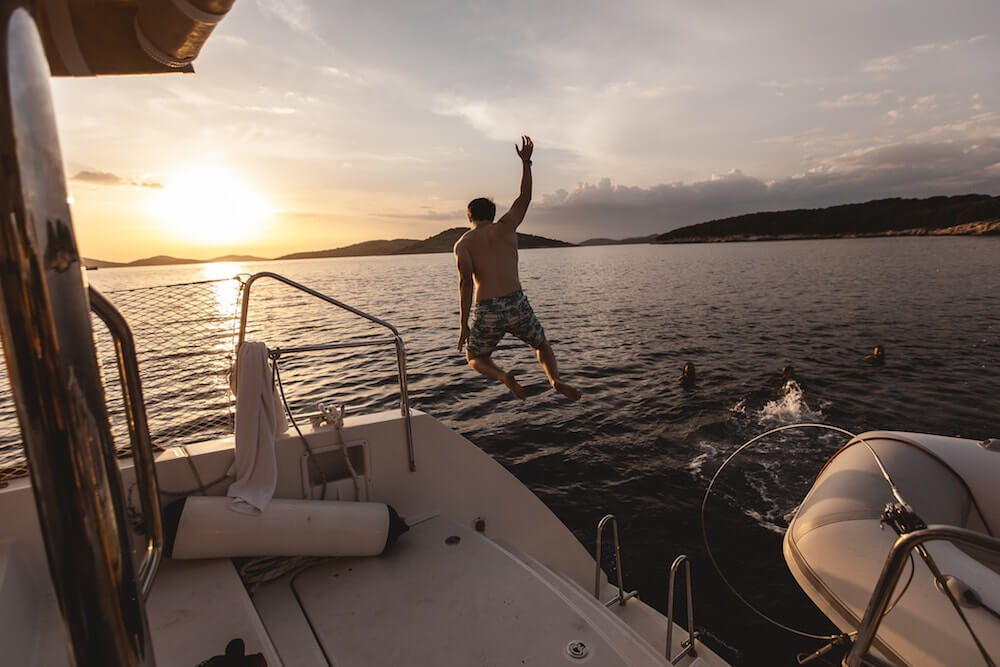 You've gotta do more than dip your toe in…
"Life should not be a journey to the grave with the intention of arriving safely in a pretty and well preserved body, but rather to skid in broadside in a cloud of smoke, thoroughly used up, totally worn out, and loudly proclaiming 'Wow! What a ride!'"
-Hunter S. Thompson
Want ROI Like This? Apply Now
4 of 5 Baby Bathwater Island attendees report making more than they paid for the ticket within 3 months — directly from the relationships they formed here.
"Paleovalley has nearly quintupled in revenue since the first BBW I attended. Most of that is directly related to the relationships I made there."

Chas Smith

Founder, Paleovalley®
"The ROI is infinite. I've made lifelong friends. The amount of stuff I've learned in the content and from meeting and engaging with people that I've brought back to my business and been able to implement very quickly is the financial return...emotionally and spiritually the return is infinite."

Jeff Cayley

Founder, Worldwide Cyclery®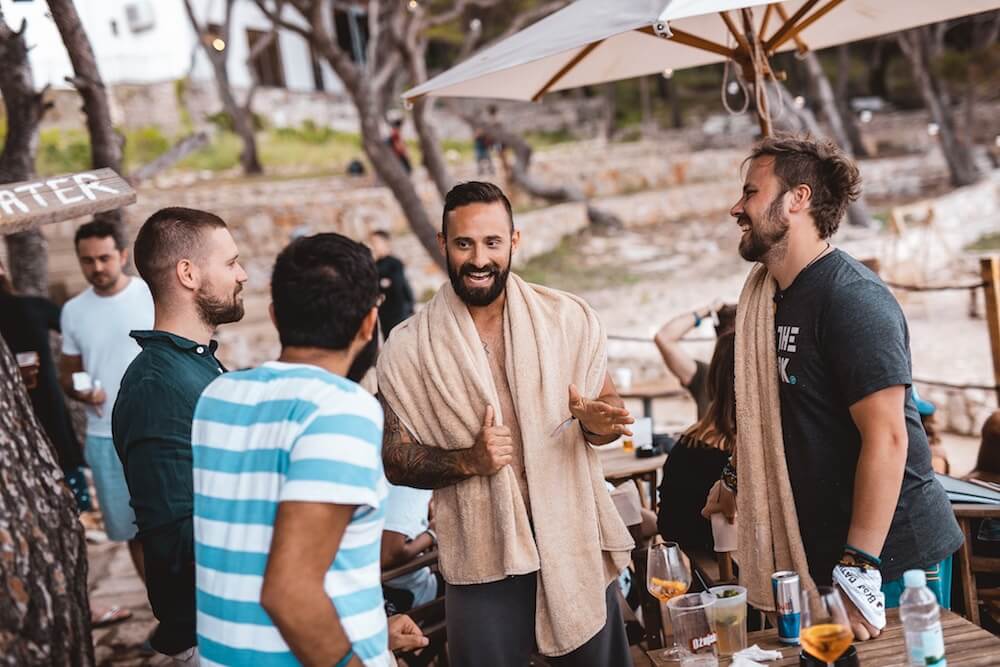 Show up, give more than you get, and good things will happen.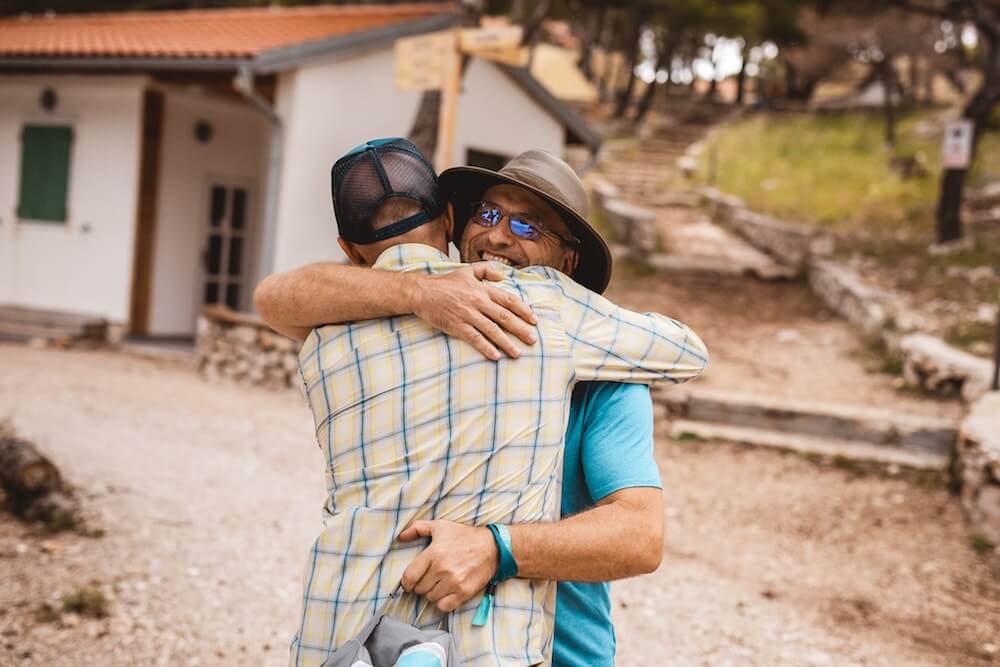 "You know it's a good event when more hugs are given than handshakes."
Your investment: $10,000 if coming solo | $18,000 if bringing a partner
Know Who You Want to Meet Ahead of Time
Baby Bathwater is built on curated connections. Expect our team to introduce you around while you're here. You'll never feel like a spectator, because you're part of the community.
Plus, use the Baby Bathwater app to make connections ahead of time so you can dig even deeper while you're on the island. Forget flimsy Facebook friendships — you'll end up exchanging cell numbers.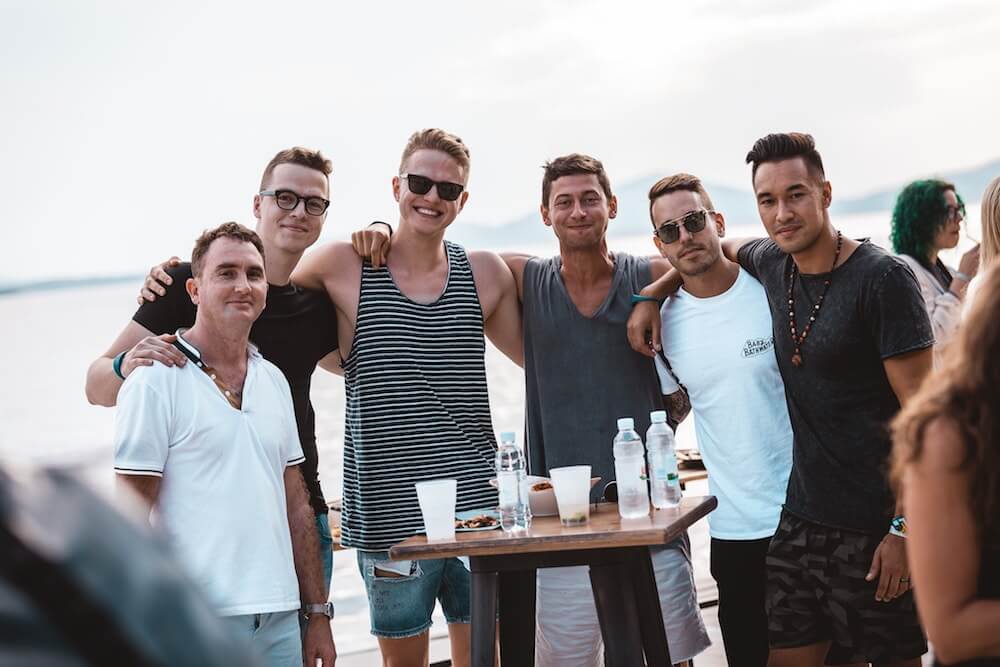 An unmatched group of go-getters, diem carpers, lovable eccentrics, and boundary pushers.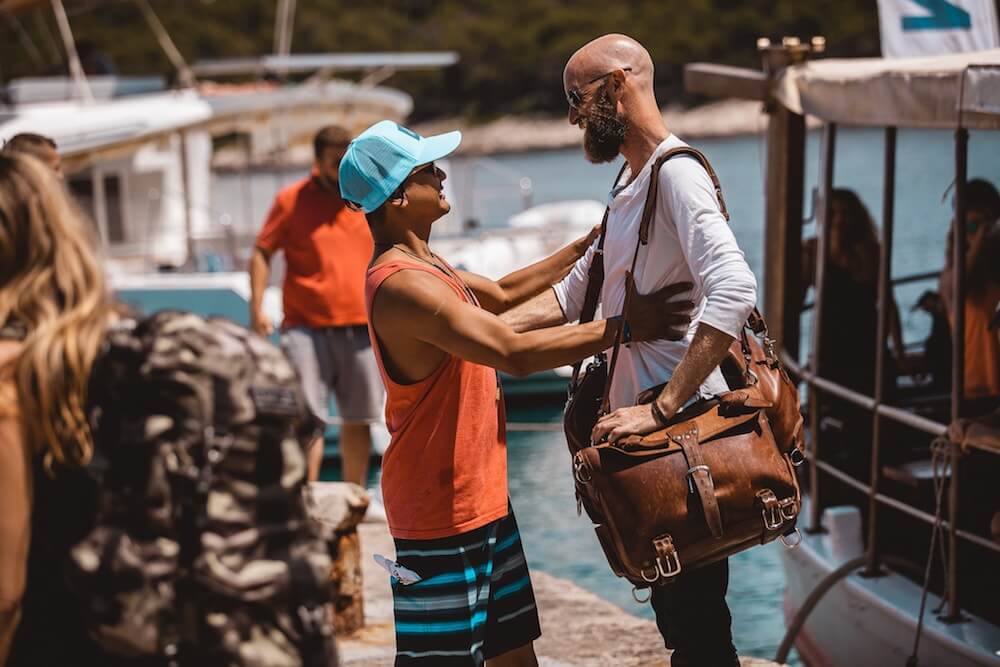 "I've been to more events than I can count, which was why attending Hollis' and Michael's event was such a surprise. I can't think of a time when I attended an event that comes even close to achieving this unique blend of truly stunning content, value-aligned influencers and raw beauty."

Gunnar Lovelace

Founder of Thrive Market®
9-Figure Ecommerce Membership Retailer
Cancel Your Plans, Book a Babysitter & Get Here
This is the can't-miss event even for entrepreneurs who hate business events. It's different, you'll find out why.
Show up with an open mind and a positive attitude. Watch as your time here turns into something real and immediate and intensely motivating… all over the course of 5 magical island days.
Remember, if you're accepted to Baby Bathwater Island, you're here for a reason.
This is your chance. Listen to your gut. Apply now.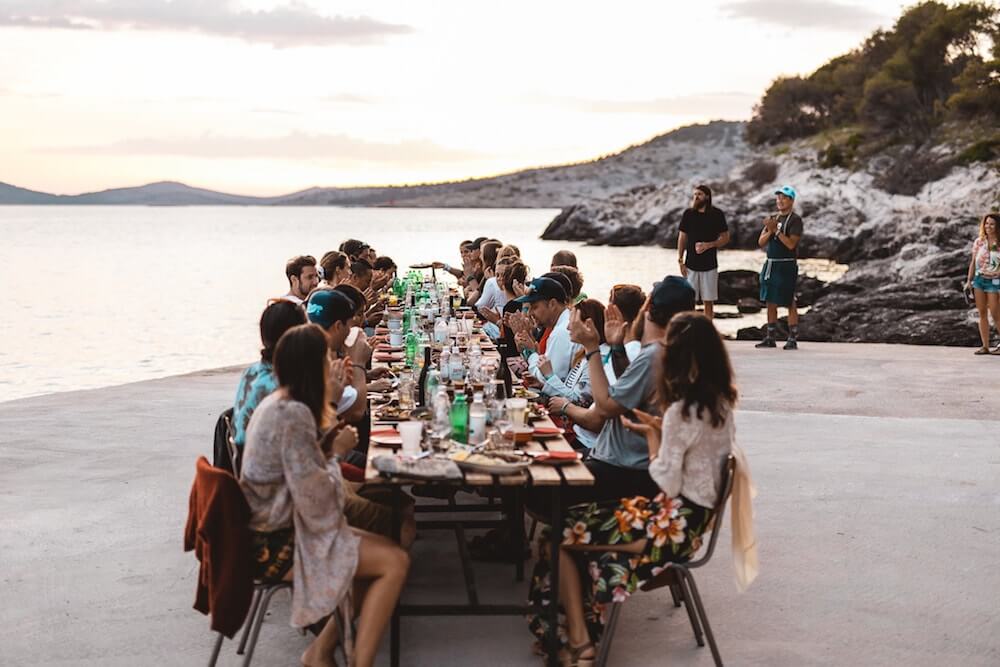 Breaking bread overlooking sunset on the Adriatic with your newest, closest friends.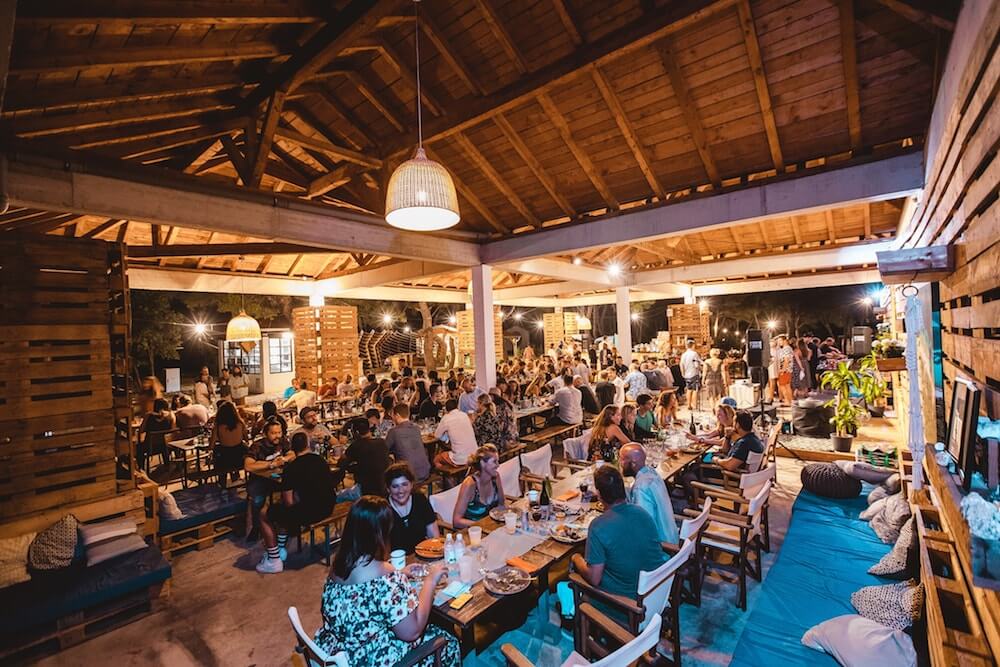 The line between business and pleasure is pretty blurred around here.
Looking for your next opportunity with this community? Apply here:
"If you're an entrepreneur and thinking of going to Baby Bathwater, it's probably one of the best investments you'll ever make."

Cameron Herold

Co-Founder & COO, 1-800-GOT-JUNK®
Founder, COO Alliance®
"If you're lucky enough to get asked or invited, give them your money before they figure out you probably shouldn't be there."

Dan Martell

Founder, Clarity FM® and 3 Other Successful Exits
"The collective brain power and creativity of the attendees allowed us to learn some great things, and most importantly, make incredible connections that have already taken our business to the next level. Baby Bathwater is a home run both personally and professionally."

Chris Stoikos

Co-Founder, Dollar Beard Club®
"Incredible people, fantastic information, and amazing food all within gorgeous surroundings. I left Baby Bathwater feeling relaxed and inspired."

Dr. Kellyann Petrucci

New York Times Best Selling Author