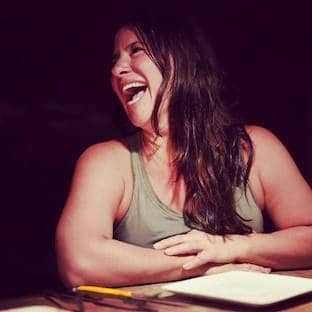 Andrea is co-owner at Misha's Coffee and co -owner of Trident Athletics. She has over 30 years of experience working
in the coffee industry, opening Misha's in 1991. During Andrea's time at Misha's, she has built an iconic local brand in Alexandria, VA, featuring the finest hand roasted, artisanal coffee in the area and a a community gathering place where people are still greeted by name. Andrea is a Master Coffee Roaster, having apprenticed 3 years and roasted 30 years consecutively . In 2021, she opened a second Misha's location on the waterfront in Alexandria.
Andrea has also been a lifelong athlete, starting as a gymnast as a child and including 5 years as a bike racer. She started an early career as a gymnastics coach and judge. which she did prior to and along with opening Misha's. After transitioning to coaching CrossFit in 2007, Andrea was hired to train soldiers at one of the top Tier One Special Operations Units in the country and then brought on to train and certify coaches by CrossFit, Inc. as part of their Seminar Staff. In 2010 she opened Trident Athletics with her now husband, Chriss Smith. Trident has been recognized as one of the top CrossFit Affilates in the country and Andrea is one of less than 300 CrossFit Level 4 Coaches in the world. She also is a Precision Nutrition Level 2 Coach, USA Weightlifting Sports Performance Coach and USAW Referee. Additionally she served the Event Director for the CrossFit Games East Regional and as a Team Lead for the CrossFit Games for 8 years.
Andrea is 4 time World Champion and 5 time National Champion in Olympic Weightlifting and was inducted into the Strength and Power Hall of Fame in 2019. She still loves lifting weights, walking her Doberman, all things performance /longevity, hiking, paddleboarding and reading about psychology.